National Current Conditions: November 8, 2023 - November 14, 2023
It was a mostly dry week—except for the Northwest and Texas. Almost every Midwestern state saw drought/dryness worsen. The South/Southeast received precipitation, but not enough yet. Exceptional Drought (D4) expanded in Mississippi, Alabama, and Tennessee.
As of November 14, 2023, 31.46% of the U.S. and Puerto Rico and 37.45% of the lower 48 states are in drought, according to the U.S. Drought Monitor.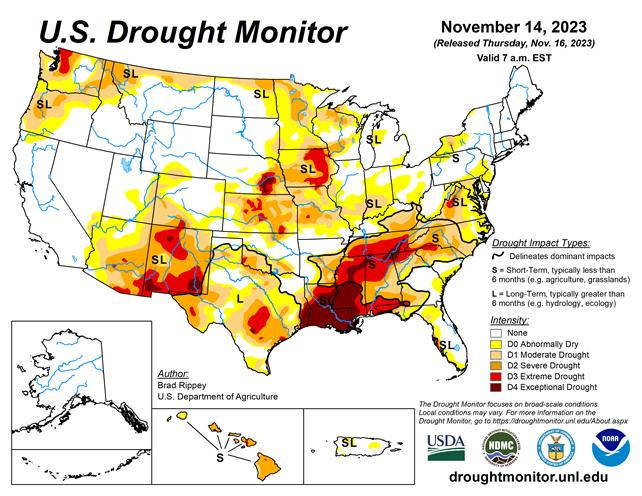 This Week's Drought Summary...
During the drought-monitoring period ending November 14, precipitation was focused across a few geographic areas, including portions of the Northwest, South, and Great Lakes region. In places where precipitation fell, winter grains, cover crops, and rangeland and pastures generally benefited from the boost in topsoil moisture. That was especially true in the South, which has been contending with serious "flash drought" issues, including a rash of autumn wildfires. However, Southern rainfall coverage was spotty, with many areas receiving only light showers. Elsewhere, Northwestern precipitation was heaviest from the Cascades westward, although key agricultural areas farther inland received some moisture. Following a nearly nationwide cold outbreak in late October and early November, warmth returned across most of the country, amplifying drought impacts in some of the driest areas.
Looking Ahead...
Mostly dry weather will prevail during the next several days across the nation's mid-section, including the Plains and upper Midwest. Farther south, showers will continue to shift eastward along and near the Gulf Coast, with the potential for late-week rain and gusty winds in parts of Florida. During the weekend, a low-pressure system accelerating northward near the Atlantic Seaboard could result in coastal wind and rain in New England. Elsewhere, a storm system parked west of California will remain offshore for the next couple of days, although rain and snow showers will spread inland at times. Late in the weekend, some of the Pacific storm energy interacting with a surge of cold air arriving from western Canada should lead to an increase in rain and snow shower activity across parts of the western and central U.S., although precipitation will initially be light.
The NWS 6- to 10-day outlook for November 21 – 25 calls for the likelihood of below-normal temperatures east of the Rockies, while warmer-than-normal weather will prevail in the West. Meanwhile, below-normal precipitation in most areas west of the Mississippi River should contrast with wetter-than-normal weather in the East, as well as northern sections of the Rockies and High Plains.