Beef Outlook: Brace yourself for higher beef prices on the farm and at home.
Scott Brown: University of Missouri
If recent USDA projections become reality, beef output next year will be about 3 billion pounds lower than in 2022 and mark the largest two-year decline in tonnage since 1977.
U.S. beef exports are already down by 336 million pounds through the first eight months of 2023. Although the resulting 1.5% decrease in domestic availability this year is not severe, next year could be a different story.
Beef availability for domestic consumers is projected to be reduced by 1.6 billion pounds. That is a 5.8% decline and would be the largest reduction since 1979 — and only the second time that domestic availability fell by 1 billion pounds or more since then.
If this magnitude of decline occurs, it will undoubtedly have notable price effects for consumers.
It is important to remember that these are just projections, and they will most certainly be revised as we work our way through the next year. The fact remains, though, that many years of tighter U.S. beef supplies stretch before us.
Domestically, the beef industry is nearing the end of the first year of a contraction phase that could last for quite some time.
Comparing the projections for this year and next with the last sizable two-year decline in beef output from 2013 to 2015 shows that there can be many combinations of balance sheet adjustments to absorb a large reduction in production.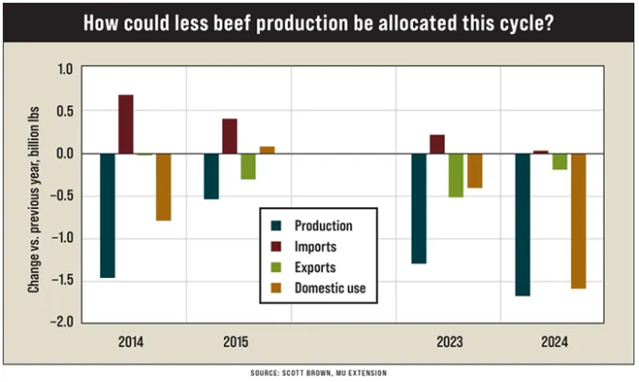 At that time, the beef production decline reached more than 2 billion pounds, but a 1.1-billion-pound increase in imports over the period cushioned the blow to total supply.
Exports of beef remained nearly unchanged in 2014 and dipped by just over 300 million pounds in 2015. Beef available for domestic consumers dropped by about 3% in 2014 and actually posted a very modest increase in 2015.
With less than 10% of the expected production change offset by increased U.S. beef imports, international and domestic U.S. beef supply purchasers will compete for a limited resource.
Consumers want superior beef
With few nations worldwide able to compete with U.S. beef production in terms of quality and taste, international markets will also feel the ramifications of reduced U.S. supplies.
Although Australia is positioned to expand its beef exports in 2024, exports from Canada, the European Union and New Zealand are projected to be lower next year. This is likely one reason that USDA does not expect a larger decline in U.S. beef shipments.
The next few years will be interesting for beef markets, and likely lucrative for producers in the cattle industry. As you make plans for your operation, be mindful of the opportunities ahead as beef-hungry consumers seek a dwindling supply of quality products.