National Current Conditions: November 1, 2023 - November 7, 2023
Conditions in the South/Southeast continue to deteriorate. Wildfires are spreading. Elsewhere, the Southwest worsened while the Northwest improved, with both drought improvements and degradations in the Plains and Midwest.
As of November 7, 2023, 31.48% of the U.S. and Puerto Rico and 37.48% of the lower 48 states are in drought, according to the U.S. Drought Monitor.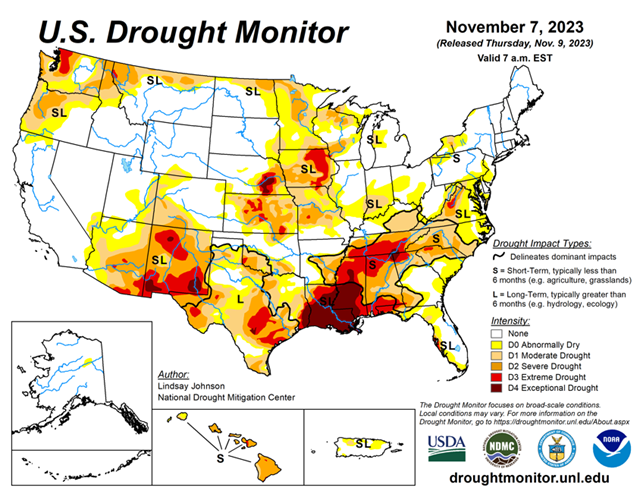 This Week's Drought Summary...
Residual impacts from the prior week's storm continued to bring some improvements to the Pacific Northwest, northern Plains and upper Midwest. However, in the South and Southeast, conditions continue to rapidly deteriorate, leading to flash drought and widespread expansion of drought conditions.
Looking Ahead...
Over the next five to seven days, much of the western and central Gulf Coast region will likely see 2-5 inches of precipitation as an unformed tropical depression makes its way north from Cuba into the western Gulf of Mexico. Some of this moisture will continue across the Southeast. The Casacade Mountian range and surrounding areas are likely to continue to receive more moisture. Temperatures are expected to be slightly below normal in Texas, the south Atlantic region and the Northeast. The High Plans and parts of the northern West and Midwest are likely to see maximum temperatures of 8-12 degrees above normal.
The six- to 10-day outlook shows a strong chance of above-normal temperatures centered over the eastern High Plains and western Midwest. Much of the rest of the county is also projected to experience above-normal temperatures. Below-normal precipitatation is forecasted across much of the northern regions from eastern Montana to Maryland and Maine. The West is projected to have above-normal precipitation, particularly in central and southern California as well as Alaska and Hawaii.