National Current Conditions: October 25, 2023 - October 31, 2023
This week saw major improvements for almost every state in the Plains and Midwest. In contrast, every state in the Southeast saw drought develop and/or worsen. As of October 31, 2023, 30.68% of the U.S. and Puerto Rico and 36.53% of the lower 48 states are in drought, according to the U.S. Drought Monitor.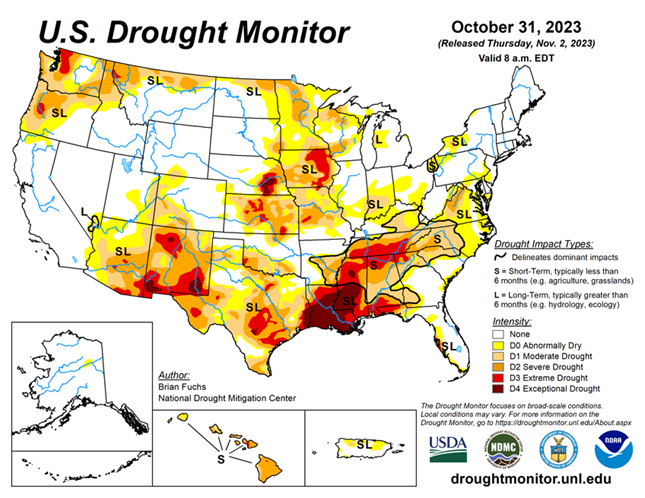 This Week's Drought Summary...
One of the first significant storm systems of the season impacted the Plains and into the Midwest. Not only did the region see widespread precipitation, but the first real cold air also dropped in from Canada. Snow was widespread through the northern Plains and significant rain fell across portions of Kansas, Missouri, Oklahoma, Texas and Arkansas as well as in Wisconsin. The Southeast continued to be dry and warmer than normal while cold air dominated portions of Montana into Wyoming during the last week.
Looking Ahead...
Over the next 5-7 days, much of the southern half of the U.S. is expected to be dry with little to no precipitation anticipated in areas south of a line from central California to Nebraska and into the Mid-Atlantic. The Pacific Northwest as well as the northern Plains and Midwest are expected to have the most active weather and precipitation. Temperatures are expected to be warmer than normal over the Southwest, southern Plains and Southeast with departures of 8-10 degrees above normal in west Texas and into New Mexico. Cooler-than-normal temperatures are anticipated over northern California, the northern Plains and upper Midwest with departures of 5-8 degrees below normal.
The 6–10 day outlooks show a good chance of a warmer-than-normal pattern over the southern U.S. and the Pacific Northwest. The best chance for below-normal temperatures is over the Great Lakes and New England regions. There is a high likelihood that temperatures over Alaska and Hawaii will also be above normal. The greatest chances of above-normal precipitation will be over northern California and southern Oregon while coastal areas from North Carolina to Maine will also have above-normal chances of recording above-normal precipitation. The best chance of below-normal precipitation is over the southern Plains and into Arizona and New Mexico.