Unemployment rate unchanged at 3.8%. Fed could be under pressure to raise rates again.
The numbers: The U.S. gained 336,000 new jobs in September - much bigger than Wall Street expected - in a sign businesses still have a strong appetite for labor.
Hiring in August and July were also revised up.
Economists polled by the Wall Street Journal had forecast 170,000 jobs last month.
The unemployment rate, meanwhile, was unchanged at 3.8%, the government said Friday.
The surprise increase in hiring, unless it's a one-off, could complicate the Federal Reserve's decision on when to stop raising interest rates. The central bank is weighing whether to approve one more hike this year and the September employment report could nudge them in that direction.
The Fed has sharply increased borrowing costs to tame inflation, but it risks a recession if it keeps raising interest rates. The Fed is worried an ongoing labor shortage could spur bigger wage increases and add to price pressures.
In some good news for the Fed, hourly wages rose a mild 0.2% in September. The increase in wages over the past year slowed again to 4.2%.
Fed officials want wage growth slow to pre-pandemic levels of 2% to 3% to help in the fight against inflation.
Key details: Government employment shot up by 73,000, padding the headline increase. It was the third straight big increase in hiring.
The private sector created 234,000 new jobs. Bars, restaurants and hotels led the way again in hiring, adding nearly 100,000 jobs month. Americans have been traveling and going out more since the end of the pandemic and spending a lot of money on services. Health-care providers also boosted employment by 41,000.
The government also raised its estimate of job gains in August to 227,000 from 187,000. The increase in employment in July was revised up to 236,000 from 157,000.
The share of people working or looking for work, meanwhile, was flat at a post-pandemic high of 62.8%.
Rising labor-force participation can also help reduce inflation. When more people look for work, companies don't have to raise wages as much to obtain labor.
Big picture: Businesses aren't hiring as many people as they were last year, but they still need more labor in light of steady demand for their goods and services.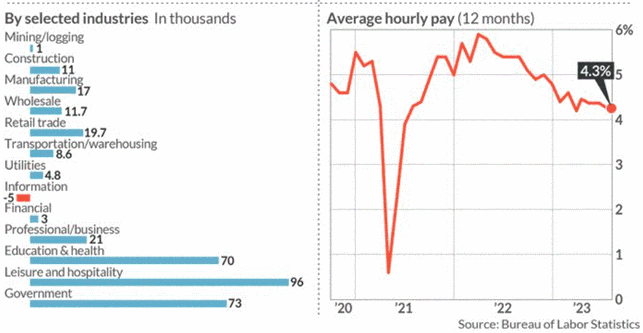 Companies are also reluctant to cut jobs amid the worst labor shortage since World War Two.
Fed officials and economists are increasingly convinced the U.S. can avoid mass layoffs and rising unemployment that typically take place when interest rates rise. They predict unemployment will remain well below 5%.
Yet wage gains will have to continue to slow or the Fed might have to raise rates again, threatening the prospect of a soft landing or no-recession scenario.
Looking ahead: "The labor market is not going to cool with job growth continuing at this rapid pace," said chief economist Brian Coulton of Fitch Ratings. "This will keep upward pressure on wages, making it more likely that the Fed has further to go in raising interest rates."
"Given the surge in third-quarter GDP and the number of people entering the workforce tempted by higher wages, this shouldn't have been a surprise," said corporate economist Robert Frick of Navy Federal Credit Union, who predicted a big increase in jobs in September.
"The depth of hiring, combined with how far below the pre-pandemic trend we remain, indicates hiring will stay strong at least through this year."