National Current Conditions: October 11, 2023 - October 17, 2023
Hit-or-miss precipitation led to both improvements and degradations across regions and states. In general, the northern U.S. and Gulf Coast saw improvements, while areas in between worsened.
As of October 17, 2023, 33.22% of the U.S. and Puerto Rico and 39.57% of the lower 48 states are in drought, according to the U.S. Drought Monitor.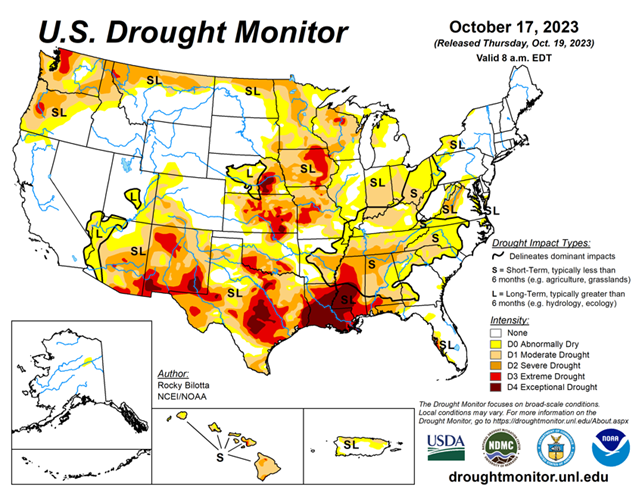 This Week's Drought Summary...
An intense low-pressure system moved across the contiguous U.S., bringing heavy precipitation (greater than 2 inches) across much of the central Plains and Midwest this week. While in the southeast, upper-level energy moving across the Southeast brought rain over parts of Alabama, Georgia, South Carolina, and northern Florida, before moving into the southern Mid-Atlantic. The most widespread improvements were made to northern Nebraska, eastern South Dakota, southern Minnesota, southern Wisconsin, northern Indiana and southern Texas where more well above normal precipitation was observed this past week. Dry conditions continued across much of the Southern region, with widespread degradations occurring across the Tennessee Valley, central Mississippi Valley and northern parts of the southern Plains. Following a wet September, minor improvements were warranted for parts of Washington. In Hawaii, drought continues to intensify across parts of Kauai and the Big Island.
Looking Ahead...
During the next five days (October 19-24, 2023), a front extending from the Upper Mississippi Valley to the Southern High Plains will move eastward to the Lower Great Lakes/Mid-Atlantic to the Central Gulf Coast by Friday. The system will produce rain over parts of the Upper/Middle Mississippi Valley on Wednesday evening, moving into the Great Lakes/Ohio Valley by Thursday and continuing eastward into Friday. On October 21, guidance shows potential for significant rainfall over parts of the Northeast, while the West is forecasted to receive rain from the weekend into next week. Some of the precipitation over the West should fall as snow in the higher northern Rockies, with snow levels gradually declining with time.
The 6-10 day outlook (valid October 23-27, 2023) favors near to above-normal precipitation throughout much of contiguous U.S., Alaska and Hawaii with below-normal precipitation most likely across the East Coast and in parts of southeast Alaska and on the Big Island in Hawaii. Increased probabilities for above-normal temperatures are forecast from the Plains to the East Coast, as well as much of Alaska and Hawaii, while below-normal temperatures are likely across much of the West.