National Conditions: May 10, 2023 - May 16, 2023
Strong storms led to big drought improvements in the Plains and the Midwest. The storms did miss a few spots, and the Northeast and Southeast have some new dryness, but overall it was a very wet week.
As of May 16, 2023, 17.02% of the U.S. and Puerto Rico and 20.35% of the lower 48 states are in drought, according to the U.S. Drought Monitor.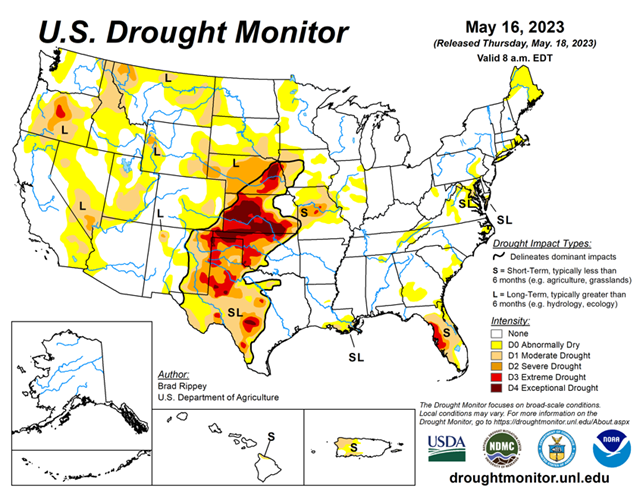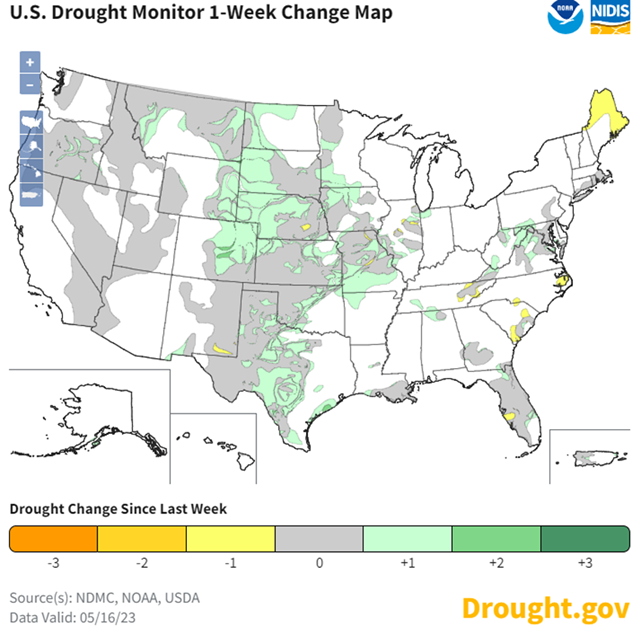 This Week's Drought Summary...
A complex, slow-moving storm system delivered heavy rain across much of the nation's mid-section, but largely bypassed some of the country's driest areas in southwestern Kansas and western Oklahoma, as well as neighboring areas. Still, the rain broadly provided much-needed moisture for rangeland and pastures, immature winter grains, and emerging summer crops. Significant rain spread into other areas, including the southern and western Corn Belt and the mid-South, generally benefiting crops but slowing fieldwork and leaving pockets of standing water. Excessive rainfall (locally 4 to 8 inches or more) sparked flooding in a few areas, including portions of the western Gulf Coast region.
Little or no rain fell across much of the remainder of the country, including southern Florida, the Northeast, the Great Lakes region, and an area stretching from California to the southern Rockies. Warmth in advance of the storm system temporarily boosted temperatures considerably above normal across parts of east-central Plains, western Corn Belt, and upper Great Lakes region. Meanwhile, record-setting heat developed in the Pacific Northwest, setting several May temperature records.
Looking Ahead...
Showers and thunderstorms will linger for the next couple of days across the lower Southeast, in the vicinity of a weakening cold front, with an additional 1 to 3 inches of rain possible in some areas. Meanwhile, another cold front will race eastward across the northern U.S., generating showers before reaching the Atlantic Coast on Saturday. Rainfall associated with the Northern cold front will be short-lived, with most locations receiving less than an inch. However, late-week thunderstorms may become heavy along the tail of the cold front, with 1 to 3 inches of rain possible in central and southern sections of the Rockies and Plains. Elsewhere, little or no precipitation will fall during the next 5 days along and near the Pacific Coast.
The NWS 6- to 10-day outlook for May 23 – 27 calls for the likelihood of near- or above-normal temperatures and precipitation across most of the country. Cooler-than-normal conditions will be confined to parts of the South, while drier-than-normal weather should be limited to the Pacific Northwest and an area stretching from the mid-South and lower Midwest into the Northeast.