National Conditions: April 26, 2023 - May 2, 2023
Western Kansas and Oklahoma finally saw drought-improving rains this week. However, much more is needed. Drought conditions in northern Kansas and Nebraska, as well as into Iowa, Missouri, and Illinois, worsened. Most drought areas in the East saw helpful precipitation.
As of May 2, 2023, 20.42% of the U.S. and Puerto Rico and 24.42% of the lower 48 states are in drought, according to the U.S. Drought Monitor.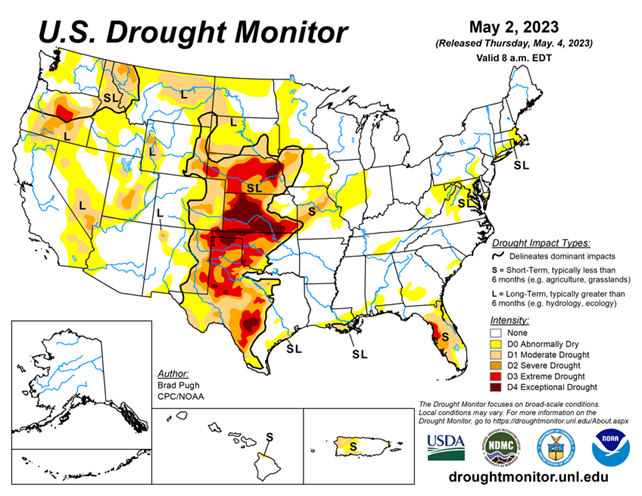 This Week's Drought Summary...
A pair of low pressure systems tracked from the Southeast northward along the East Coast, bringing a swath of widespread precipitation (2 to 4 inches, locally more) to much of the East Coast at the end of April. During the final week of April, the Southern Great Plains along with the Lower Mississippi Valley also received widespread precipitation with amounts exceeding 2 inches across southeastern Colorado, northern and eastern Oklahoma, and northeastern Texas.
Late April was mostly dry across the Central to Northern Great Plains and Middle Mississippi Valley. Little to no precipitation was observed throughout the West where a significant warmup at the end of April resulted in rapid snowmelt, runoff, and flooding along streams and rivers. In contrast to these above-normal temperatures, cooler-than-normal temperatures occurred across the Great Plains, Corn Belt, and much of the East from April 25 to May 1.
Looking Ahead...
During the next five days (May 4 - 8, 2023), moderate to heavy precipitation (0.5-1.5 inches, locally more) is forecast for the Pacific Northwest, Great Basin, Northern Rockies, and higher elevations of California. An active weather pattern is expected from the Great Plains east to the Mississippi Valley with varying 5-day precipitation amounts forecast. Following a very wet end to April along the East Coast, drier weather is forecast to be accompanied by a gradual warming trend across the East.
The 6-10 day outlook (valid May 9-13) favors below-normal temperatures across the West, while above-normal temperatures are more likely throughout the central and eastern U.S. Elevated probabilities for above-normal precipitation are forecast for the Pacific Northwest, northern California, Great Plains, Mississippi Valley, and Southeast. Near normal precipitation amounts are favored for much of the Great Lakes and Northeast.