National Conditions: May 17, 2023 - May 23, 2023
It was another wet week for the Southern Plains and Colorado. Parts of the West and Southeast saw improvements to drought and dryness too. In contrast, the Midwest and eastern Central Plains saw degradations and look warm and dry in the short-term.
As of May 23, 2023, 16.05% of the U.S. and Puerto Rico and 19.20% of the lower 48 states are in drought, according to the U.S. Drought Monitor.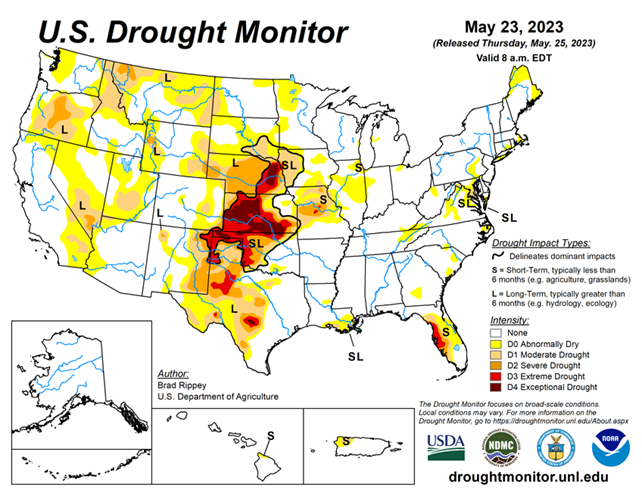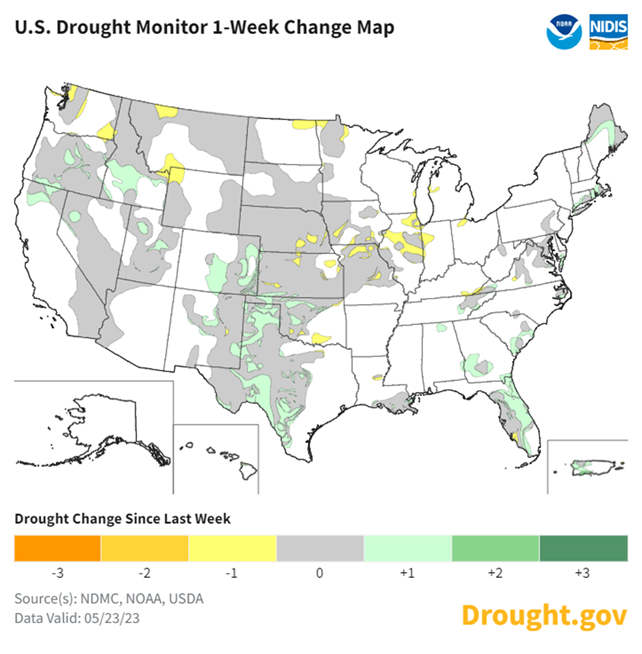 This Week's Drought Summary...
Showery weather across the southern half of the Plains provided additional drought relief, following the previous week's major storm. Still, much of the rain arrived too late to rescue winter wheat, although rangeland, pastures, and summer crops greatly benefited from the soil moisture improvements. Variable rainfall extended westward into the central and southern Rockies and eastward to the southern Atlantic Coast, maintaining generally favorable growing conditions for pastures and summer crops. Eventually, rain shifted northward along the northern Atlantic Coast, easing dry conditions.
Meanwhile, light showers dotted the Northwest, while little or no rain fell across the remainder of the country, including the north-central U.S. and the Far West. A week-long hot spell elevated temperatures in the Pacific Northwest, although temperatures began to fall late in the drought-monitoring period. A separate area of heat, accompanied by high humidity, affected much of the Deep South. Elsewhere, near- or slightly below-normal temperatures prevailed across the central and southern Plains, while cooler-than-normal weather covered much of the Northeast and environs.
Looking Ahead...
A slow-moving Southeastern disturbance interacting with a plume of Atlantic tropical moisture could lead to heavy rain in the southern and middle Atlantic States, especially in coastal areas, through the Memorial Day weekend. Five-day rainfall totals could reach 2 to 4 inches or more from Florida to the Carolinas. Meanwhile, a cold front draped across the northern High Plains and the northern Intermountain West will remain the focus for widespread rain, which could total at least 1 to 2 inches in Montana and portions of neighboring states. A separate area of rain—in the form of daily thunderstorms—will affect the central and southern High Plains, resulting in additional drought relief. In contrast, dry weather will prevail during the next 5 days in much of the Southwest, Midwest, and Mississippi Valley.
The NWS 6- to 10-day outlook for May 30 – June 3 calls for the likelihood of near- or above-normal temperatures and precipitation across most of the country. Cooler-than-normal conditions should be confined to an area stretching from southern California to the southern High Plains, while drier-than-normal weather should be limited to western Washington and an area stretching from the Great Lakes region to New England.