USDA made a bold projection last year that beef production in 2023 would decline about 1.9 billion pounds or 6.8%. That number has been revised higher. The most current projection puts beef production for 2023 at 26.733 billion pounds, an upward revision of 170 million pounds compared to February and 1.625 billion pounds (‐5.7%) lower than last year.
Forecasts for beef imports and exports were left unchanged. Beef exports are currently forecast at 3.090 billion pounds, 446 million pounds or 12.6% lower than a year ago. Beef exports were off to a slow start in January and that trend has continued.
Outstanding beef sales are currently well below year ago levels, pointing to continued double digit declines in US exports through spring. As for imports, USDA also did not make any changes to its previous forecast and currently expects beef imports for all of 2023 to be just 34 million pounds or 1% higher than a year ago.
Beef imports through the end of February were down about 2% from a year ago, mostly due to a sharp decline in imports from Mexico, down 17% so far this year. The increase in production bumped up per capita domestic consumption (not to be confused with demand), now forecast at 56.7 pounds per person, down 4.1% compared to 2022 levels. This supply would be comparable with 2013 levels.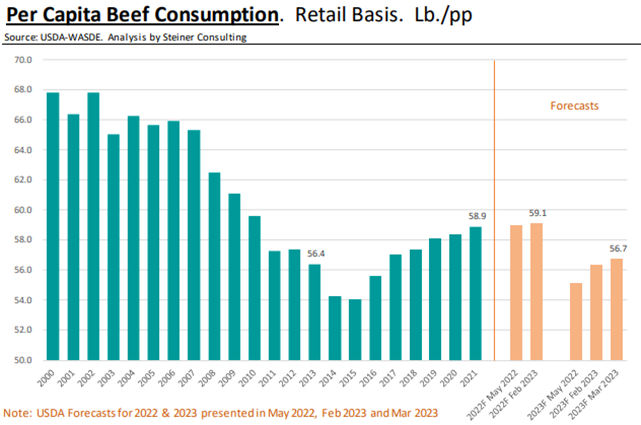 Source: Daily Livestock Report - Steiner Consulting Group