National Conditions: March 1, 2023 - March 7, 2023
Records are falling, but in different ways... Areas in the West/Great Plains have been cold with record precipitation, while parts of Texas to the Southeast Coast have seen record warmth as well as dryness.
As of March 7, 2023, 31.45% of the U.S. and Puerto Rico and 37.65% of the lower 48 states are in drought, according to the U.S. Drought Monitor.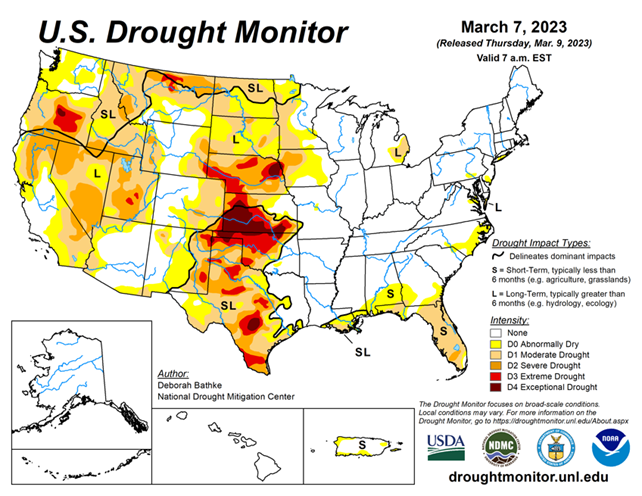 This Week's Drought Summary...
A series of severe weather events moved across the South and Southeast this week, bringing damaging winds, tornados and heavy rainfall. As these storms moved through the Midwest, many locations experienced record daily rainfall. This same storm brought snow to the upper Great Lakes and parts of the Northeast. Precipitation was scarce across other areas of the country, including parts of the West, the High Plains and Deep South.
Drought and dryness expanded in parts of the Pacific Northwest, southern Texas and the Gulf and Atlantic coasts. Drought improvements were seen across the West from prior weeks' precipitation events. In addition, parts of the southern Plains, Great Lakes and mid-Northeast regions also saw improvements.
Looking Ahead...
The National Weather Service Weather Prediction Center forecast for the remainder of the week (valid March 8 – March 11) calls for an atmospheric river to bring heavy rainfall, flooding and high-elevation snow to the West Coast. A winter storm tracking across the central High Plains and upper Midwest is also expected to bring snow to these regions, with the heaviest amounts in southern Minnesota, northern Iowa and southern Wisconsin. As this storm moves eastward, mixed precipitation is likely in a band stretching from eastern Nebraska to southern New York. Heavy rain and thunderstorms are expected across the southern Plains, the South, lower Midwest and the Southeast.
Moving into next week, the Climate Prediction Center's 6-to-10-day outlook (March 13 – March 17) calls for above-normal temperatures across the Southwest with below-normal temperatures across much of the Lower 48 and Alaska. Most of the U.S. can expect near- to slightly above-normal precipitation. Parts of the Midwest and Northeast are the only areas with slightly increased odds for below-normal precipitation.