National Conditions: March 15, 2023 - March 21, 2023
Spring has arrived, but the cold, wet weather continues out West (especially California). The Southern Plains are still missing out on the best precipitation, and the same is true for parts of Florida and the East Coast.
As of March 21, 2023, 28.86% of the U.S. and Puerto Rico and 34.54% of the lower 48 states are in drought, according to the U.S. Drought Monitor.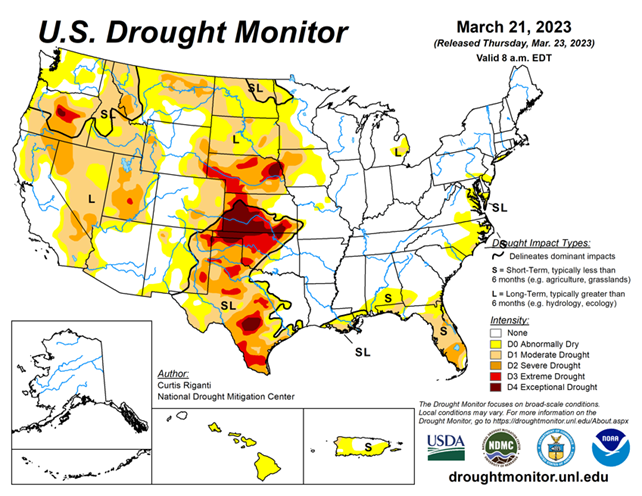 This Week's Drought Summary...
This week, heavy precipitation fell in parts of the West, especially in California, while drier weather generally occurred in the Great Plains east of the Rocky Mountains. Heavier precipitation also fell along parts of the Rio Grande in Texas, leading to some improvements of drought conditions there. Widespread precipitation amounts at or above a half inch fell in east Texas eastward into the Southeast, and from near Interstate 44 in Oklahoma eastward into Arkansas and southern Missouri. New York and southern New England also saw near a half inch of precipitation this week, with localized higher amounts. Dry weather continued in parts of the Florida Peninsula, where severe drought coverage increased in several areas. In response to rainfall in central Puerto Rico but continued dry conditions in the northwest, abnormal dryness coverage shifted a bit there. Recent dry weeks in Hawaii led to decreased streamflows and the introduction of abnormal dryness on all islands except Kauai and Niihau. For more detailed information for each region, please refer to the paragraphs below.
Looking Ahead...
Through the afternoon of Monday, March 27, the National Weather Service Weather Prediction Center is forecasting mainly dry weather in the northern Great Plains, Minnesota and northwest Wisconsin. Mostly dry weather is also forecast in most of the Florida Peninsula, where short-term moderate and severe drought has intensified recently. Aside from some of the higher elevation areas, mostly drier weather is forecast in southern Nevada, southeast California, Utah and New Mexico. Heavier precipitation amounts are forecast for parts of western Oregon and Washington and far northwest California. Heavy rainfall, locally up to or exceeding 3 inches, is forecast along and south of the Interstates 44 and 70 corridors from far northeast Oklahoma into Ohio. Widespread rain amounts of at least 1.5 inches are likely in the northern halves of Georgia, Alabama and Mississippi, and in the southwest half of Tennessee. Widespread precipitation amounts of 0.5-0.75 inches are likely in much of the Northeast, with localized higher amounts.
For the period from March 28-April 1, the National Weather Service Climate Prediction Center's forecast strongly favors above-normal precipitation in most of the West, especially central and southern California. Above-normal precipitation is also likely in Tennessee and portions of the surrounding states. Most of the Great Plains, except for the area stretching from southeast New Mexico to western Kansas, is slightly favored to receive above-normal precipitation, as is the Upper Midwest and most of the Northeast. Below-normal precipitation is weakly favored in the southern half of the Florida Panhandle. Above-normal precipitation is likely in most of Alaska, except for far southeast Alaska, where below-normal precipitation is favored. The temperature outlook strongly favors colder-than-normal weather across most of the West, especially California and Nevada, with most of the northern contiguous U.S. also leaning toward colder-than-normal temperatures. The entire Gulf Coast region is more likely to have warmer-than-normal temperatures, with the highest probabilities for above-normal temperatures existing in the Florida Panhandle. Warmer-than-normal temperatures are favored in northeast Alaska, while colder-than-normal weather is more likely in southeast Alaska.