Sometimes in markets, the stars align and history is made. That may well be the case for the 2023 cattle bull market. Incredible beef demand propelling choice boxed beef values last week to a record high average price for February. 
What is the other component pushing prices higher? A sharp drop in weekly beef production. The last three weeks, packers have harvested 95k fewer cattle than for the same time frame a year ago. That's a bunch. Carcass weights are dramatically below a year ago, last reported steer weights were 22 pounds below 2022. 
Fed cash cattle prices made new highs last week too, averaging $161.09 the highest since February 2015. Packers purchased 77k head and 18k with time. There is no legitimate reason any cattle feeder should sell with time over the next two years. This hurts the other remaining cattle feeders that still sell in the cash market, who are already in the minority.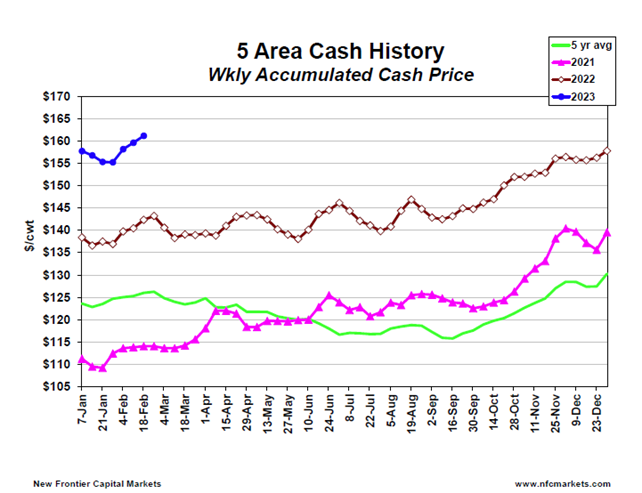 Remarkably, packers are holding on to a barely black margin, thanks entirely to the rising cutout. Last week's 627k harvest was proof they are demonstrating discipline. At some point price will force harsher rationing and packer margins will go red.
CME cattle futures have pushed to new highs again today with soon-to-expire February LC leading the way. Today's high in Feb of $164.70 is the highest since January 2015. New all-time highs in live cattle futures are very probable in 2023.
'The Beef' is published by Consolidated Beef Producers