National Conditions: February 1, 2023 - February 7, 2023
The story this week is drought improvements out West, as impacts from the recent storms add up. That said, winter/snow season is not over—and how much snow ends up in water supplies is yet to be determined.
As of February 7, 2023, 34.99% of the U.S. and Puerto Rico and 41.88% of the lower 48 states are in drought, according to the U.S. Drought Monitor.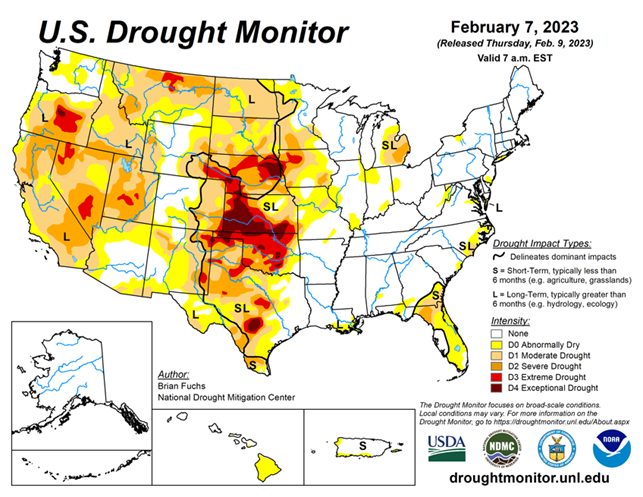 This Week's Drought Summary...
The vast majority of the country was drier than normal for the week with only areas of the southern Plains, South, and Southeast seeing precipitation that was well above normal. Dry conditions were prominent over the central and northern Plains, Midwest, Northeast and Southwest. Most of the country experienced cooler-than-normal temperatures with the greatest departure from normal over the central Rocky Mountains. Warmer-than-normal conditions were observed over the northern Rocky Mountains and in the Southeast with departures of 5-10 degrees above normal. A reassessment of conditions took place for many locations in the West to analyze the current drought intensity levels compared to the suite of indices and indicators used each week. Some adjustments were made based on this analysis and not directly related to anything that took place during the last week.
Looking Ahead...
Over the next 5-7 days, an active pattern is expected to develop over the Midwest and into the Southeast, with the greatest precipitation anticipated over Arkansas and southern Missouri as well as throughout the Southeast into the Mid-Atlantic. Temperatures are expected to be above normal over much of the northern Plains into the Midwest and Northeast, with departures of up to 10 degrees above normal. Cooler-than-normal temperatures are anticipated over the West with departures of 8-10 degrees below normal over Utah, Nevada and western Wyoming.
The 6–10 day outlooks show that temperatures are expected to be above normal over the eastern half of the country with the greatest probabilities of above-normal temperatures over the Northeast. Temperatures are anticipated to be cooler than normal over much of the West and Alaska. Much of the country is showing a high probability of above-normal precipitation, with the best chances of above-normal precipitation anticipated to be over the upper Midwest and Great Lakes region. There are above-normal chances of below-normal precipitation over northern Alaska and the Big Bend region of Texas.