National Conditions: February 8, 2023 - February 14, 2023
This week brought more drought improvements than degradations. Those improvements included the South Dakota/Nebraska border, eastern Kansas/Oklahoma into Missouri, as well as parts of the Southeast Coast, Arizona and New Mexico, and Hawaii. Meanwhile, the Florida peninsula continues to worsen.
As of February 14, 2023, 34.55% of the U.S. and Puerto Rico and 41.35% of the lower 48 states are in drought, according to the U.S. Drought Monitor.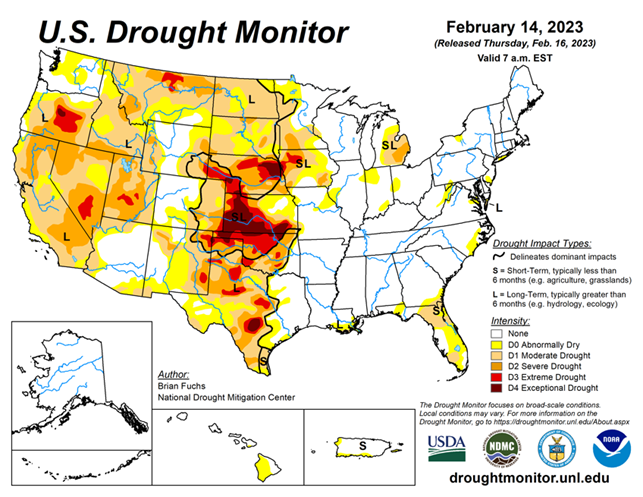 This Week's Drought Summary...
An active weather week over much of the South, Southeast and portions of the Midwest allowed many locations in eastern Oklahoma, northern Arkansas, central Mississippi, northern Florida, southern Georgia and into coastal areas of South Carolina to record above-normal precipitation. Dry conditions dominated the West and northern Plains. Temperatures were well above normal in the northern Plains and upper Midwest, with departures of 15-20 degrees above normal. Most areas east of the Missouri River were above normal for the week with departures of 5-15 degrees above normal common. Cooler-than-normal temperatures dominated the intermountain West and into the Four Corners region where temperatures were 5-10 degrees below normal for the week.
Looking Ahead...
Over the next 5-7 days, a storm system will track out of the Four Corners region and onto the Plains, bringing with it widespread precipitation from Colorado, through the Plains and into the Midwest. Widespread precipitation is also expected throughout the South and into the Mid-Atlantic where up to 2-3 inches of rain is anticipated. Much of the southern and northern Plains as well as the West will be dry during this time. Temperatures are expected to be above normal over much of the southern Plains, Midwest and eastward with departures of 8-10 degrees above normal. Cooler-than-normal temperatures are expected over the central to northern Plains, and over the West where departures of up to 15 degrees below normal will be expected over Wyoming.
The 6–10 day outlooks show above-normal chances of below-normal temperatures over the northern Rocky Mountains, the Pacific Northwest and much of the West. The best chances of above-normal temperatures will be over the Southeast and through much of the South and Mid-Atlantic. Most of the country is showing above-normal chances of recording above-normal precipitation with the best chances over the Great Basin and in the Mid-Atlantic. South Texas and the peninsula of Florida are still showing a better likelihood of below-normal precipitation.