National Conditions: January 25, 2023 - January 31, 2023
We recently saw drought relief in California with a deluge of Atmospheric Rivers. We're now seeing drought relief in eastern Oklahoma and Texas with perilous ice storms. Drought relief comes in different (sometimes dangerous) forms. Meanwhile, precipitation from winter storms brought improvements to parts of the Midwest and the East Coast (except central/south Florida).
As of January 31, 2023, 35.67% of the U.S. and Puerto Rico and 42.65% of the lower 48 states are in drought, according to the U.S. Drought Monitor.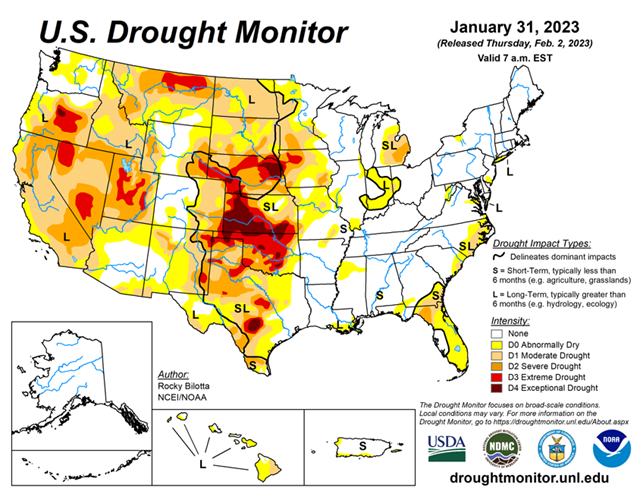 This Week's Drought Summary...
Winter storms brought heavy rain and snow much of the eastern U.S. and from the Pacific Northwest to the central Rockies this week with above-normal precipitation observed from the southern Plains to the Southeast and along the East Coast. Precipitation led to abnormal dryness and drought improvements in the central Plains, Midwest, Southeast and Northeast. Conversely, conditions worsened over dryer areas including Idaho/Montana, southern Texas and the Florida Panhandle.
In the eastern United States, temperatures have been above-normal resulting in rain falling over many areas instead of snow. Many cities including New York, Baltimore, Philadelphia and Washington D.C. remain snowless for the season. New York City recently set a new latest first measurable snowfall previously set on Jan 29, 1973. In California, a series of atmospheric rivers brought significant amounts of rain which gave reservoirs a much-needed boost, but California lacks infrastructure to make use of such a massive rainfall. Despite the deluge, the winter storms may not have eased the state's drought. In Hawaii, a strong low pressure system aloft combined with a low pressure trough at the surface to produce conditions favorable for heavy rainfall and flash flooding over portions of the main islands.
Looking Ahead...
The National Weather Service Weather Prediction Center has forecasted a significant ice storm (valid January 30 – February 2) is forecasted to bring freezing rain, sleet, and ice accumulations over portions of the Southern Plains and Mid-South. The storm is expected to bring prolonged power outages and cause treacherous travel conditions.
Moving into next week (valid February 4–February 8), very chilly conditions are expected across the Northeast as cold air and gusty winds settle in under upper-level troughing. Dangerous wind chills and possibly new daily temperature records are in store for much of the Northeast region. Temperatures could stay below zero all day in parts of Maine and in the single digits in much of northern New England. This cold airmass is expected to sink further south along the Eastern Seaboard leading to temperatures 10-20F below normal. Temperatures are expected to rebound across the East as warmer temperatures over the central U.S. migrate eastward after the weekend. The West however could stay around 5-10 F below average especially in terms of highs underneath upper troughing. A frontal system could spread some light snow to the Midwest/Great Lakes regions and Northeast this weekend, and amounts could be enhanced downwind of the Great Lakes. Light precipitation is possible along the Eastern Seaboard while the West could expect generally light to moderate precipitation in the form of lower elevation rain and higher elevation snow.
At 8–14 days, the Climate Prediction Center Outlook (valid February 9 – February 15) calls for below-normal temperatures across much of the West, from the Pacific Northwest to the Southwest, and much of Alaska. Near-normal temperatures are expected in parts of the Northwest, northern and central Rockies and southern Plains, including southwest and eastern Alaska, while the eastern half of the contiguous U.S. and the Alaska Panhandle have the greatest probability of warmer-than-normal temperatures. Most of the U.S. can expect above-normal precipitation with the probability of near-normal precipitation occurring in much of the Northwest, the Florida Peninsula and northern Alaska and in parts of southern Texas.