National Conditions: December 28, 2022 - January 3, 2023
As 2023 begins, California is getting heavy precipitation, the West has good snowpack, and the Mississippi River Basin is much improved. However, the West has long-term precipitation deficits, and the Plains remain in bad shape.
As of January 3, 2023, 38.67% of the U.S. and Puerto Rico and 46.26% of the lower 48 states are in drought, according to the U.S. Drought Monitor.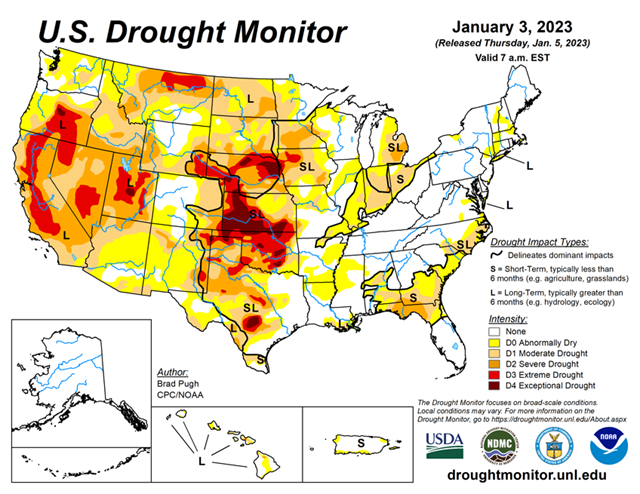 This Week's Drought Summary...
An atmospheric river (AR) led to heavy rain and high-elevation snow across the West with the largest amounts throughout California on December 30 and 31. Preceding this AR, enhanced onshore flow also resulted in widespread rain and high-elevation snow from the West Coast eastward to the Continental Divide. 7-day total amounts (liquid equivalent), from December 27, 2022 - January 2, 2023, ranged from 2 to 6 inches (locally more) across much of California, western Oregon and Washington, and parts of the Great Basin and central Rockies. A pair of low pressure systems brought widespread, heavy rainfall (1 to 3 inches, locally more) from the lower Mississippi Valley northward to the Ohio Valley. A winter storm affected southern South Dakota and western to central Nebraska where 6 to 18 inches of snowfall occurred on January 2. Mostly dry weather prevailed along most of the East Coast and southern Great Plains. Following the Arctic air outbreak during late December, a rapid warming trend began during the final days of 2022. 5-day temperatures (December 27, 2022 - January 2, 2023) averaged more than 10 degrees F above normal across the central and eastern U.S.
Looking Ahead...
During the next five days (January 5-9), enhanced onshore flow is forecast to bring additional heavy rain and high-elevation snow to California and the Pacific Northwest. According to the Weather Prediction Center, the heaviest amounts (more than 7 inches, liquid equivalent) are forecast across the coastal ranges of northern California and the Sierra Nevada Mountains. Periods of snow may spread inland over the Great Basin and central Rockies. Light to moderate rainfall is expected to accompany a low pressure system as it tracks across the lower Mississippi Valley. Elsewhere for the central and eastern U.S., little or no precipitation is forecast.
The Climate Prediction Center's 6-10 day outlook (valid Jan 10-14) depicts a persistent pattern with enhanced onshore flow affecting the West Coast. Probabilities exceed 70 percent for above-normal precipitation throughout much of California with increased probabilities for above-normal precipitation forecast for the West and central Great Plains. Above-normal precipitation is also favored for much of the East. Below-normal precipitation is slightly favored for much of Texas, the northern high Plains, and Great Lakes. The long duration of Pacific flow and persistent pattern continues to increase chances for above-normal temperatures for nearly all of the contiguous U.S.