National Conditions: January 18, 2023 - January 24, 2023
With waves of precipitation hitting the U.S., almost every region saw improvement or at least status quo—with the exception of the Southern Plains. That said, there is still a lot of drought in the U.S.
As of January 24, 2023, 36.0% of the U.S. and Puerto Rico and 42.99% of the lower 48 states are in drought, according to the U.S. Drought Monitor.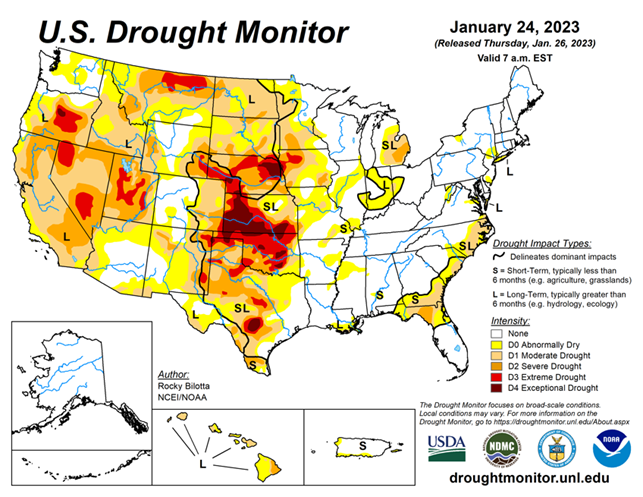 This Week's Drought Summary...
Over the past few weeks, a series of atmospheric rivers brought significant amounts of rain and snow across parts of the West leading to improvements in soil moisture, streamflow, reservoirs levels and snowpack. This above-normal precipitation led to abnormal dryness and drought improvements in California, the Pacific Northwest, Great Basin and the central Rockies.
Despite these improvements, long-term drought persists across much of the West. In the eastern United States, winter storms brought cooler temperatures and above-normal precipitation from the Mississippi Valley to the East Coast, leading to abnormal dryness and drought improvements in the Midwest, Northeast and Southeast. Meanwhile, persistent dryness led to the expansion of drought in the southern Plains and northern Rockies, while much of the Southern and High Plains regions remain largely unchanged
Looking Ahead...
The NWS Weather Prediction Center has forecasted a winter storm (valid January 25 – January 26) that will track through the eastern Great Lakes overnight. Bands of heavy snow are expected over northern New York and New England. A second area of low pressure will develop over Southern New England and move into the Gulf of Maine by early Thursday where over 10" of snow is forecasted for interior locations.
Moving into next week (valid January 28 – February 1), the forecast calls persistently cold temperatures from the northern/central Rockies into the Upper Midwest, while the West will trend colder. the Southeast on the warmer side of normal, especially after the weekend.
At 8 – 14 days, the Climate Prediction Center Outlook (valid February 2 – February 8) calls for below-normal temperatures over most of the country except for the Southeast and Alaska. Parts of the Northeast, southern Southwest and central Alaska can expect near-normal temperatures, while parts of the Southeast and western Alaska have the greatest probability of warmer-than-normal temperatures. Most of the U.S. can expect near- to slightly above-normal precipitation with the probability of near-normal precipitation occurring from the northern Plains to the Northeast and from southern California to the southern Plains, including western and southeast Alaska. Southern parts of the Southwest and Alaska have increased odds for below-normal precipitation.