National Conditions: January 11, 2023 - January 17, 2023
Little by little, drought conditions in California and the West have been improving. However, a lot of precipitation over a long time is needed to get rid of a 20+ year megadrought. Meanwhile, conditions are slowly worsening in the Southern Plains and Southeast Coast.
As of January 17, 2023, 36.72% of the U.S. and Puerto Rico and 43.86% of the lower 48 states are in drought, according to the U.S. Drought Monitor.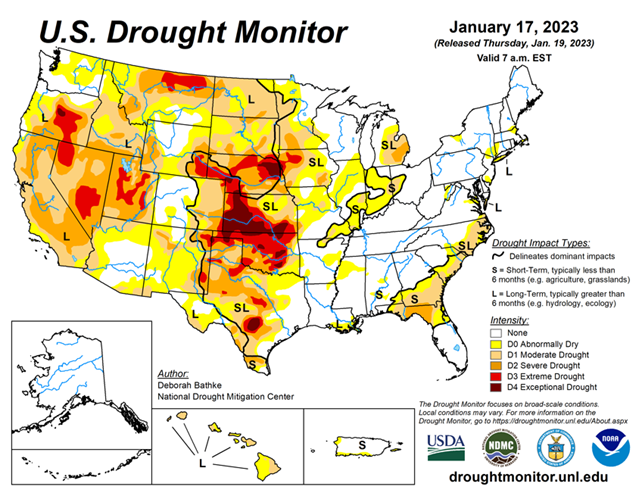 This Week's Drought Summary...
An atmospheric river brought heavy rain and high-elevation snow across part of the West, leading to drought improvements in California, the Pacific Northwest, the northern Rockies and the Great Basin. A band of heavy rainfall, combined with severe weather, impacted the Southeast, leading to areas of drought improvement in Georgia. Meanwhile, persistent dryness led to the expansion of drought in the Carolinas.
Drought in the High Plains remains largely unchanged; much of the excess moisture is tied up in snowpack and its effects on soil moisture and groundwater recharge remain to be seen. Drought expanded across parts of the South where short-term moisture deficits on top of longer-term drought continue to build.
Looking Ahead...
The forecast for the remainder of the week (valid January 18 – January 20) calls for a winter storm to bring freezing rain and snowfall to the High Plains and Upper Midwest. To the southeast, showers and thunderstorms are expected with localized areas of heavy rainfall. Chances will increase for a wintry mix of snow, sleet and freezing rain along the East Coast as the storm system moves into the northeast on Thursday. Much of the southern U.S. can expect unseasonably warm temperatures. Meanwhile, another storm system is expected to move southeastward through the Pacific Northwest into the Northern Rockies, the Great Basin, California and the Desert Southwest, bringing rain and snow at lower elevations and heavier mountain snow.
Moving into next week (valid January 21 – January 25), the forecast calls for a storm system to track from the central Plains to the Northeast, bringing strong winds and wintry weather to the northern regions and rain to the south. At 8 – 14 days, the Climate Prediction Center Outlook (valid January 25 – January 31) calls for below-normal temperatures over most of the country except for the Northeast, Southeast and Alaska. The Northeast can expect near-normal temperatures, while the Southeast and Alaska have the greatest probability of warmer-than-normal temperatures. Most of the U.S. can expect near- to slightly above-normal precipitation. Only the Pacific Northwest and northern Minnesota have increased odds for below-normal precipitation.