National Conditions: December 7, 2022 - December 13, 2022
Strong storms hit California and parts of the Southern Plains/Lower Mississippi River Basin this week, improving drought conditions. Dry spots amidst a generally wet week included western Kansas (again) and parts of the Gulf Coast.
As of December 13, 2022, 44.51% of the U.S. and Puerto Rico and 53.20% of the lower 48 states are in drought, according to the U.S. Drought Monitor.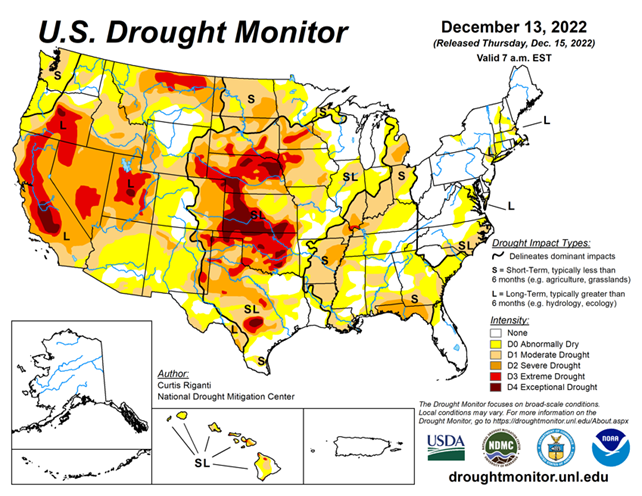 This Week's Drought Summary...
While much of the contiguous U.S. is still experiencing drought or abnormal dryness, several storm systems dropped large amounts of precipitation over the past week in the form of rain or snow, especially in California and from eastern Oklahoma through Tennessee. Since some of this precipitation fell near the Tuesday morning data cutoff, more analysis of the early week precipitation will be performed next week, when more data is available to analyze changes to ongoing drought conditions. In parts of the Great Lakes, Southeast, and northwest Kansas that missed out on recent precipitation, drought or abnormal dryness developed or worsened.
Looking Ahead...
According to forecasts from the National Weather Service (NWS) Weather Prediction Center, as the weekend progresses into early next week, most areas east of the Rocky Mountains may expect near- or slightly below-normal temperatures. Meanwhile, a much-colder-than-normal airmass should build into the northern Great Plains. Widespread precipitation is forecast for the Great Lakes region through Monday evening, and from the southern Appalachians into the Northeast.
From December 20-28, the NWS Climate Prediction Center outlooks suggest that this cold airmass will spill into parts of the central and eastern U.S., where high confidence forecasts of below-normal temperatures exist. In parts of California and Nevada, forecasts lean toward above-normal temperatures during this period, especially from December 22-28. Precipitation forecasts lean toward above-normal precipitation for the Northern Rockies, Pacific Northwest, Northern Great Plains, and Northeast from December 20-28. Drier-than-normal weather is favored in the Desert Southwest, Southern Great Plains, and the Ohio and Tennessee River valleys. For Alaska, above-normal precipitation is favored in the southern part of the state, while below-normal precipitation is favored in the northern part of the state. The temperature forecasts vary more between the 6-10 and 8-14 day periods, but generally, below-normal temperatures are more likely in eastern Alaska, while the Aleutian Islands are more likely to see warmer-than-normal temperatures.