National Conditions: November 2, 2022 - November 8, 2022
Precipitation up and down the Mississippi River Basin has helped improve drought conditions, but much more is needed. Conditions in the Northwest also improved. However, parts of the Plains, eastern Midwest, and East saw degradations this week.
As of November 8, 2022, 50.46% of the U.S. and 60.34% of the lower 48 states are in drought, according to the U.S. Drought Monitor.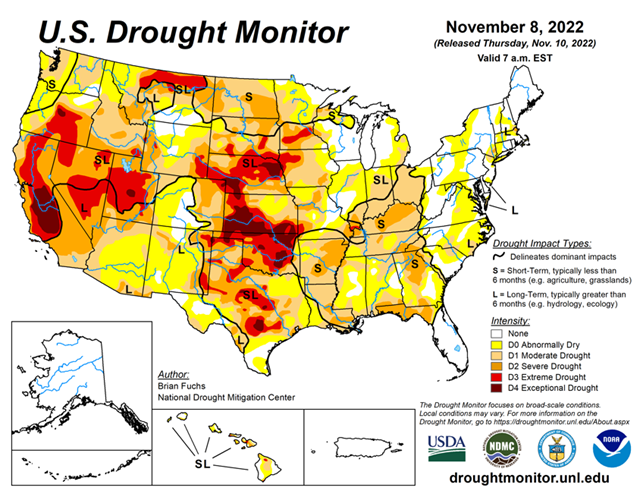 This Week's Drought Summary...
This week continued with another active weather pattern over portions of the Pacific Northwest as well as into the central Plains and Midwest. With widespread heavy rain from Kansas into Wisconsin as well as portions of the lower Mississippi River valley, some areas recorded significant precipitation during the period. Temperatures over the eastern half of the country were above normal, some significantly, while most of the West was cooler than normal. A continued wet pattern over the Pacific Northwest as well as portions of the Midwest has allowed for continued improvement to drought intensities, especially in areas that are receiving abundant precipitation. Dryness continues to build over eastern portions of the Midwest and into the Southeast as well as along the Gulf Coast.
Looking Ahead...
Over the next 5-7 days, it is anticipated that the impact of tropical storm Nicole over the east coast will be significant, bringing a great deal of precipitation from Florida to Maine during the next several days. A winter storm is impacting the northern Plains into the upper Midwest, bringing with it some significant snow while a frontal passage over the Plains will allow for some precipitation from Nebraska south into the lower Mississippi valley. Temperatures during this period look to be well below normal, with portions of the northern Plains 20-24 degrees below normal during this time. Warmer-than-normal temperatures will impact the Northeast and Mid-Atlantic, with temperatures 6-9 degrees above normal.
The 6–10 day outlooks show that temperatures are expected to be well below normal over most of the country, with areas of the Plains having the highest likelihood of recording below-normal temperatures. In contrast, Alaska is anticipating warmer-than-normal temperatures during this time. The greatest chance of above-normal precipitation is over the Southeast as well as through the Rocky Mountains while much of the central Plains and Midwest as well as the West have the greatest chances of having below-normal precipitation.