National Conditions: November 16, 2022 - November 22, 2022
It was a cold, dry week for most of the United States, with only minor changes in drought conditions. Rain brought some improvements to the western Gulf Coast (Texas and Louisiana), while parts of the lower Midwest and Southeast saw degradations. In the Plains, cold weather combined with soil moisture shortages increased drought stress on vegetation.
As of November 22, 2022, 49.59% of the U.S. and 59.3% of the lower 48 states are in drought, according to the U.S. Drought Monitor.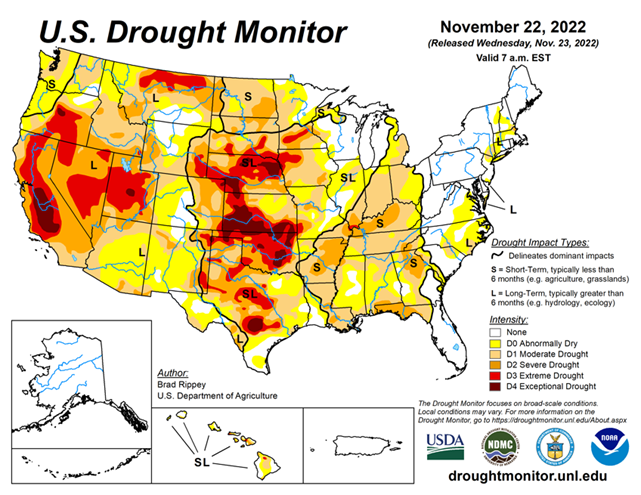 This Week's Drought Summary...
Cold, dry weather prevailed nearly nationwide, with a few exceptions. Notably, mid-November snow squalls developed downwind of the Great Lakes, resulting in localized totals of 2 to 6 feet or more. In addition, precipitation fell in parts of the South, East, and Midwest, primarily early in the drought-monitoring period, although most liquid-equivalent totals were under 2 inches. Snow broadly blanketed the Midwest and interior Northeast, especially on November 15-16, although amounts were mostly light to moderately heavy. Meanwhile, deep snow from a previous storm remained on the ground in much of Montana and North Dakota. As the period progressed, rain lingered in the western Gulf Coast region. Elsewhere, negligible precipitation fell across the western half of the country. On the Plains, the combination of cold weather and soil moisture shortages maintained significant stress on rangeland, pastures, and winter wheat. Weekly temperatures averaged at least 10°F below normal nationwide, except in the Desert Southwest and along the Atlantic and Pacific Coasts.
Looking Ahead...
Across much of the country, milder weather will replace previously cold conditions. By November 24, Thanksgiving Day, a storm system will begin to take shape across the south-central U.S. Late in the week, portions of the southern Plains should receive much-needed precipitation, including possible wet snow. Farther east, 5-day rainfall totals from the southeastern Plains to the southern Appalachians could total 2 to 4 inches or more. Late-week rain (locally 1 to 2 inches) may also spread into portions of the East and lower Midwest, including the Ohio Valley. Meanwhile, periodic precipitation will spread inland from the Pacific Northwest to the northern Rockies. Much of the remainder of the country, including an area stretching from California to the northwestern half of the Plains and the upper Midwest, will receive little or no precipitation during the next 5 days.
The NWS 6- to 10-day outlook for November 28 – December 2 calls for the likelihood of below-normal temperatures across the northern Plains and much of the West, while warmer-than-normal weather will prevail east of a line from the southern Rockies to Lake Michigan. Meanwhile, near- or below-normal precipitation in much of the southern and eastern U.S. should contrast with wetter-than-normal conditions from the Pacific Coast to the northern half of the Plains, Midwest, and mid-South.