National Conditions: October 26, 2022 - November 1, 2022
Drought and dryness have worsened in the Northern Plains and Upper Midwest this week but improved in other parts of the Midwest, Southern Plains, and South. The East saw degradations, while the West remained mostly status quo.
According to the November 1 U.S. Drought Monitor, 85.28% of the Lower 48 is experiencing abnormal dryness (D0) or drought (D1–D4)—setting a U.S. Drought Monitor for the second week in a row. The previous highs were 84.5% last week and 80.8% on July 17, 2012.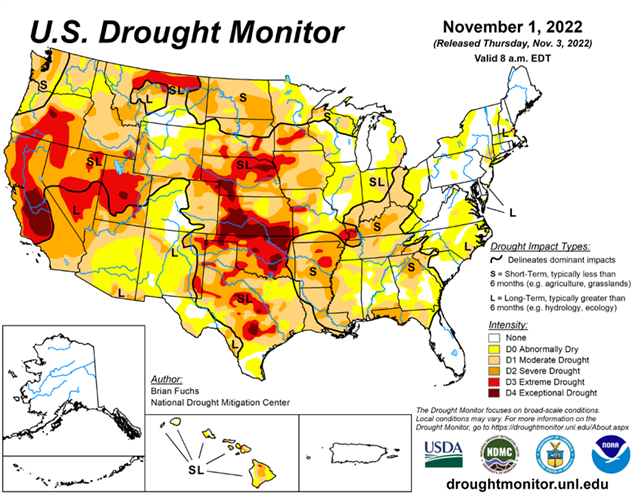 This Week's Drought Summary...
An active weather pattern over the Midwest to southern Plains brought the most precipitation to those areas this week. Warm and dry conditions dominated the northern Plains and the upper Midwest where some areas are experiencing "flash drought" conditions that are not as common this time of year. Dryness over the Southeast is starting to impact more of the region while an active pattern has started over portions of the Pacific Northwest, bringing some moisture over the western portions of the region. Temperatures were coolest over the West and southern Plains and warmest over the northern Plains and into New England.
Looking Ahead...
Over the next 5-7 days, it is anticipated that the Pacific Northwest will remain in an active pattern, with greatest precipitation anticipated along the coast. The Rocky Mountains also look to stay in an active pattern, with up to an inch of precipitation anticipated over much of western Colorado and Wyoming as well as into Utah. A large frontal system is anticipated over much of the Midwest, with areas of the upper Midwest expected to receive over 1.50 inches of rain. The wet pattern over the South will continue as well with much of the lower Mississippi basin anticipating rainfall of over 1 inch. Temperatures during this period show much of the eastern U.S. having above-normal temperatures, with the greatest anomalies over the Great Lakes where high temperatures could be 15-18 degrees above normal. Cooler than normal temperatures are anticipated over the West with departures of 6-9 degrees below normal over California to Arizona.
The 6-10 day outlooks show that temperatures are anticipated to be warmer than normal over the eastern half of the U.S. with the greatest chances over the East coast and into the Mid-Atlantic. Cooler than normal temperatures are anticipated over much of the West with the best chances of below normal temperatures over the northern Rocky Mountains and into the Great Basin. The likelihood of drier than normal conditions are greatest over the Midwest into the lower Mississippi valley. The best chances for wetter than normal conditions are over the southeast coastal areas, the northern Plains, upper Midwest and into the Great Basin and California.