National Conditions: September 28, 2022 - October 4, 2022
Drought and Abnormal Dryness (D0) continue to develop and intensify from the Plains through the Mississippi River Basin, and have now extended further into the Midwest and Southeast. Low water levels are impacting barge traffic on the Mississippi River during the harvest, a crucial time. 
As of October 4, 2022, 44.04% of the U.S. and 52.55% of the lower 48 states are in drought.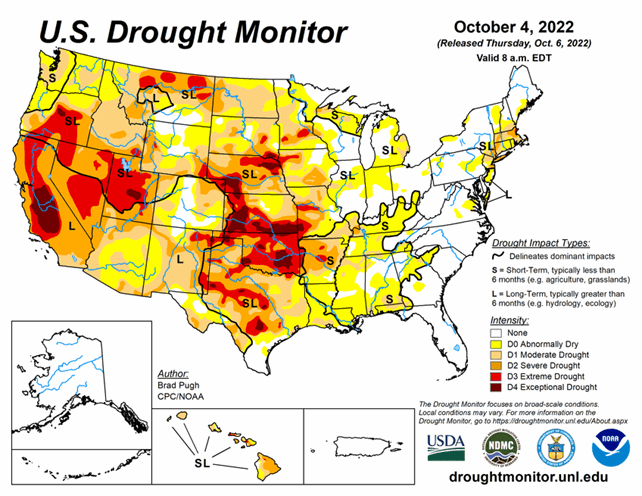 This Week's Drought Summary...
Major Hurricane Ian made landfall in southwestern Florida on September 28 and then reemerged offshore of the Atlantic coast, with another landfall near Georgetown, South Carolina two days later. Excessive rainfall (more than 10 inches) caused widespread inland flooding throughout the central Florida Peninsula and heavy rainfall overspread the Carolinas, Mid-Atlantic, and central Appalachians. After a mid-level low pressure system tracked inland from the northeastern Pacific and became stationary over the interior West, heavy precipitation (1 to 3 inches) occurred across northern Idaho along with the north-central Rockies. Therefore, improvements were made across much of the East and north-central Rockies. Conversely, a dry week resulted in an expansion of abnormal dryness (D0) and moderate drought (D1) along with intensifying drought conditions across much of the Great Plains, Mississippi Valley, and Midwest. D1 was added to parts of the Pacific Northwest. A mix of improvements and degradations were made to Hawaii, while Alaska and Puerto Rico remain drought-free.
Looking Ahead...
From October 6 to 10, mid-level low pressure, the tail end of a front, and enhanced moisture from the East Pacific are expected to bring widespread rainfall (1 to 3 inches) to eastern Arizona, New Mexico, and the northern Texas Panhandle. Elsewhere, across the contiguous United States, little to no precipitation is forecast. Behind a cold front, below-normal temperatures are forecast to shift southeastward across the central and eastern U.S. The first frost or light freeze of the season may affect the Corn Belt. Above-normal temperatures are likely to persist throughout the northwestern U.S.
The Climate Prediction Center's 6-10 day outlook (valid October 11-15, 2022) expects a variable temperature pattern during this 5-day period. Below-normal temperatures are most likely across the Rockies and Southwest, while above normal temperatures are favored for the Pacific Northwest and lower to middle Mississippi Valley. Probabilities for above-normal precipitation are elevated across the southwestern and south-central U.S. with a likely continuation of a drier-than-normal pattern for the Pacific Northwest.