As is usually the case, there is a fair amount of debate as to how many cattle feedlots placed and marketed last month and how many cattle were on feed as the beginning of September. The monthly USDA survey offers a consistent way to track the flow and participants pay close attention in order to adjust expectations for supplies that can potentially come to market in the next few months.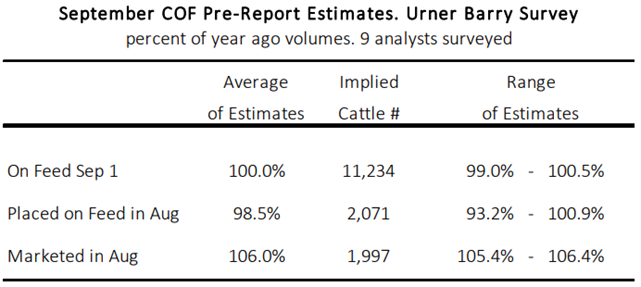 Analysts polled ahead of the USDA report (to be published 9/23 at 3PM ET) expect on average that feedlots placed 1.5% fewer cattle on feed than the previous year. The number is skewed a bit by two analysts that think placements will be notably below year ago levels.
Of the nine analysts polled, five think that placements were the same or higher than a year ago. Placements of cattle on feed, especially the increase in placements of light weight cattle, have been greatly affected by extreme drought conditions in key production areas, and lack of feed resources during the spring and summer. Most analysts polled think that these factors continued to play a significant role in August as well.
Source: Steiner Consulting Group – Read Complete Article