National Conditions: August 24, 2022 - August 30, 2022
This week brought more major improvements across the southern U.S., particularly the Southwest and Texas (where more rain is coming). Montana, the Central Plains, the Northeast, and Hawaii saw the most degradations. As of August 30, 2022, 38.23% of the U.S. and 45.53% of the Lower 48 states in drought.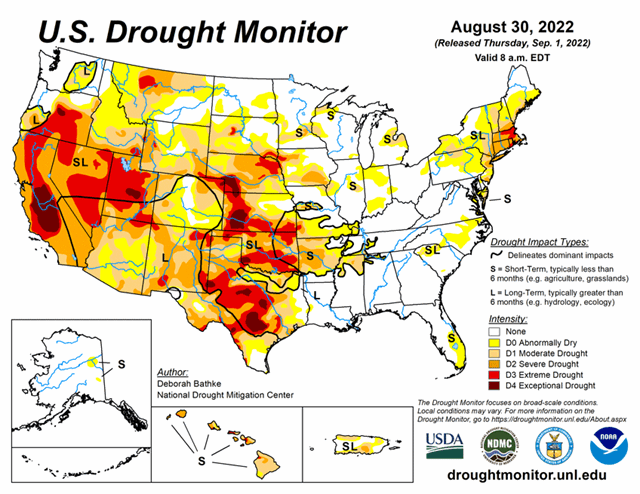 This Week's Drought Summary...
Broad drought improvements continued across parts of the South for the second week in a row as the ongoing effects of record-setting rainfall over the last two weeks became apparent. The North American Monsoon also continued to provide much-needed rainfall in the Southwest, leading to additional improvements across much of the region. Drought expanded in the Northwest as warm, dry conditions continued across the region, while the Midwest, Southeast, and Northeast saw a mix of improvements and degradations due to locally heavy rain.
Looking Ahead...
The National Weather Service forecast (valid September 1 – September 4) calls for rainfall over parts of the South, the Southeast, the Central Plains and the Upper Midwest. Meanwhile, dry weather is expected to continue across much of the West, the Northern Plains and the Mid-Atlantic. Moving into next week (valid September 5 – September 8), the forecast calls for continued rain across much of the South and Southeast, while the West, High Plains and parts of the Midwest are expected to remain dry. Heavy rain is expected across portions of the Alaska Panhandle and mainland Alaska.
The 8–14 days Outlook (valid September 8 – September 14) calls for above-normal temperatures across most of the continental U.S. Below-normal to normal temperatures are predicted across southern Arizona, southern New Mexico and West Texas. Below-normal precipitation is favored across much of the northern tier of the continental U.S., while normal to above-normal precipitation is favored for the rest of the continental U.S. Below-normal precipitation is expected across parts of the Pacific Northwest, the Intermountain West, and parts of the Midwest and Northeast.