The Choice-Select spread continued to widen last week and maintained the counter-seasonal increase seen all summer. The five year average suggests normally this spread weakens significantly between 4th of July and the holiday season. This year, the Choice-Select spread has been steadily widening since about the middle of March, with the exception of a small dip in August.
Last year, a similar counter seasonal trend occurred and resulted in some high peaks in the spread over the summer. However, the reasons for these wide spreads are different. Last year, Choice product added to value at a much faster rate than Select, though both were increasing. From the lowest value in the first of the year until the first peak in the spread at just over $35 per cwt, Choice boxed beef value increased 37% compared to Select's 25% gain in the same time period.
This year, both grades of beef are seeing falling prices relative to where they were in March. Choice boxed beef has fallen 1.4% from mid-March to last week, while Select boxed beef has fallen 9%, creating a similar effect on the Choice-Select spread as last year. Daily Select cutout values have been volatile this week, Monday jumped over $4, while Tuesday's fell back by more than $2 per cwt.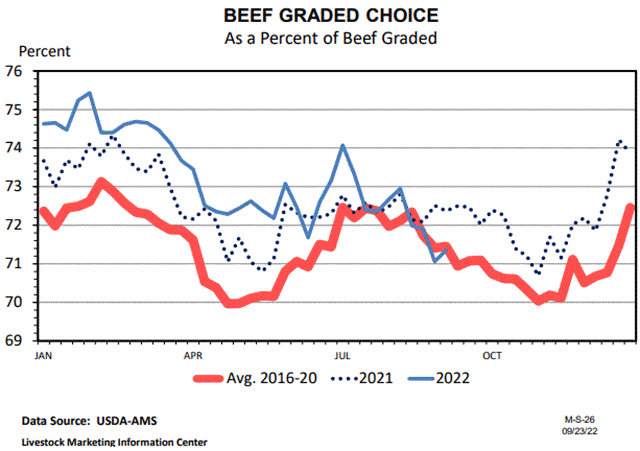 Relative supplies of quality graded beef have been different this year as well. The percent of beef grading Choice was nearly a full 1% higher in the first half of 2022 versus 2021. The last five weeks of reported data indicates that has shifted. Percent of carcasses grading Choice have been below a year ago for the last five weeks, the largest decline was down 1.5% from last year, indicating supplies of Choice will likely be tighter than they were last year.
Select graded beef also saw an increase in the first half of 2022, with just over half a percent more carcasses grading Select. This too has changed in recent weeks. Since the beginning of July about 1% more carcasses are grading select then a year ago. Prime graded beef supplies were relatively tight earlier in the year seeing an average decline on a weekly basis of 1.5% lower than 2021 Jun. Since July, there has been a full 1% more carcasses grading Prime than last year heading into the holiday season and are well positioned to capture the very high premiums happening in the rib and loin primals for prime graded beef. Last year, the Prime rib premium was over $200 per cwt in the fourth quarter.