USDA FAS trade data for the month of June was released yesterday and provides totals for the first half of 2022.
Total cattle imports for the month of June were 127,243 head, down 4.1% from last month but up 4.3% from last year. Through the first half of the year, total cattle imports have totaled 855,204 head, down 5.2% or 46,923 head from the same period in 2021. This is the slowest rate of cattle imports for the first half of the year since 2005 which was 684,584 head.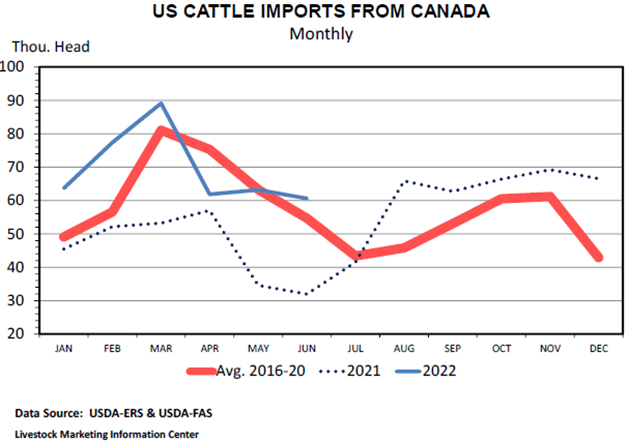 Canada and Mexico are the primary suppliers of cattle to the U.S. with a market share of 48.6% and 51.4%, respectively. In June, imports from Canada were 60,602 head, up nearly 90% or 28,650 head from a year ago. Year-to-date imports from Canada were 415,796 head, up 51.5% or 141,376 head. The primary increase in imports of Canadian cattle this year has come from cows and heifers for slaughter. Through the first half of the year these two categories totaled 184,242 head shipped, up 19.2% or 29,622 head from last year. This is likely due to drought conditions in Alberta and Saskatchewan, high prices for slaughter cows and a strong US dollar.
Shipments from Mexico were 66,641 head in June, down 26% from a year earlier. Through the first six months of 2022, imports from Mexico totaled 439,408 head, down 30% or 188,299 head from 2021. A majority of shipments from Mexico are feeder cattle destined for placement in feedlots or backgrounding operations. Through the first half of the year, lower shipments from Mexico have more than offset the increase in imports of cattle from Canada.
Source: Daily Livestock Report - Steiner Consulting Group