The total supply of meat coming to market these days is running well above year ago levels, more evidence that the price strength this summer was due to robust demand. Whether that continues into the fall and then next year will be a function of key domestic drivers, exports, as well as price adjustments at the retail level.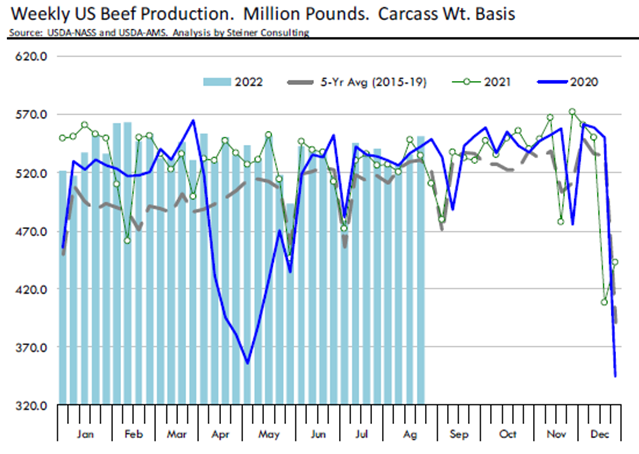 Weekly production numbers are initial estimates and can see notable adjustments down the road but they give the most immediate update on supply conditions. For the week ending August 27 combined beef and pork production was estimated at 1.04 billion pounds, 1.2% higher than the previous year. Year on year price comparisons are skewed by the dramatic price spike a year ago. The choice beef cutout last week was pegged at $263/cwt, down 24% from a year ago but 22% higher than the average for the month of August during the 2015‐2019 period. Similarly for pork, the cutout last week was pegged at $106/cwt, 6.5% lower than a year ago but 30% higher than the average value for the month of August during the 2015‐19. Pork supplies will seasonally increase in the fall but remain under last year.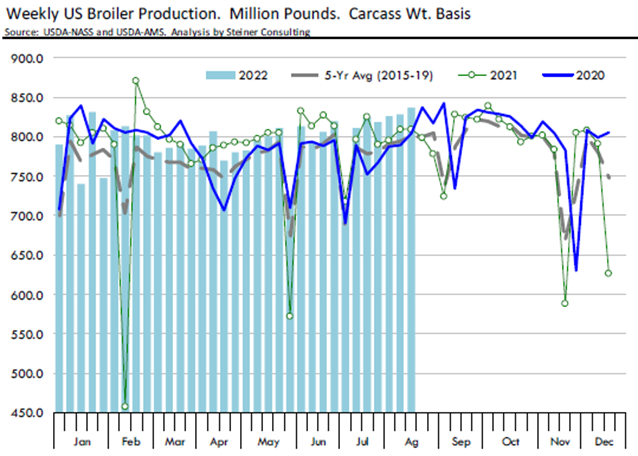 Slaughter for the Sep‐Nov period is expected to be down about 1% compared to a year ago, a rough projection that corresponds to the estimated pig crop for Mar‐May. Some of this may be offset by a change in carcass weights. This will be an important indicator to watch both because it affects the total pounds coming to market but also telling us if producers are marke􀆟ng hogs in a timely fashion. USDA used an average dressed weight of 210 pounds per carcass last week. For a change we think that number is exactly right, it matches up with our tracking number using MPR reported data. Hog weights are trending higher, especially weights for producer owned hogs. The average weight of producer owned barrows and gilts bottomed out at 206.8 pounds in early August and has increased almost 1.8 pounds in the last two weeks. It will be higher in the next two weeks due to the disruptions caused by the long holiday weekend. The two weeks after Labor Day will be telling.
During some years weights have increased at a faster pace than normal, suggesting producers losing currentness and settng the stage for weaker prices in October and November. But, if producers manage to stay ahead, maybe accepting some short term pain, it could result in a more robust trading hog market in Q4.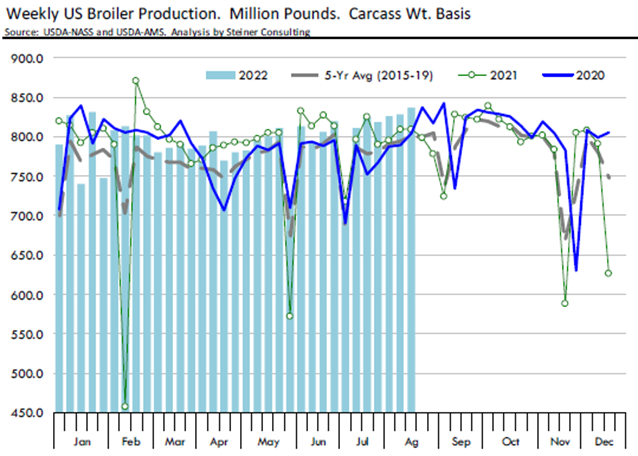 Adding to the overall protein supply is the recovery in chicken output. Production was running well short of demand in late winter and spring. And with Memorial Day ahead, and retail demand fairly inelastic, it resulted in record prices for those ubiquitous chicken breasts. The supply side has changed significantly since then. USDA reported that total broiler production for the week ending August 21 was 837 million pounds, 3.4% higher than a year ago and the highest production week so far this year. This is not an anomaly. In the last four reported weeks broiler production has averaged 3.2% above the same time last year. High wholesale prices have filtered through to the retail level, resulting in a normal decline in quantity demanded even as overall demand remains firm. This is happening as supplies are increasing, putting pressure on wholesale markets.
Source: Daily Livestock Report - Steiner Consulting Group