National Current Conditions: June 29, 2022 - July 5, 2022
Flash drought continues in the Midwest, South, and Southeast. Some areas have gone from abnormal dryness (D0) to severe drought (D2) in a matter of weeks, according to the U.S. Drought Monitor. The Northeast and Alaska also saw drought worsen this week. As of July 5, 2022, 44.3% of the U.S. and 49.42% of the lower 48 states are in drought.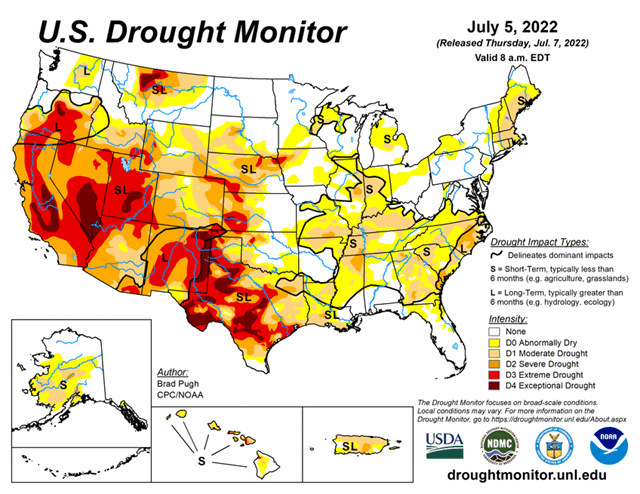 This Week's Drought Summary
Short-term drought continued to rapidly expand across the Ohio, Tennessee, and Middle Mississippi Valleys along with parts of the Corn Belt. Thunderstorms brought locally heavy rainfall and drought relief to parts of the central to northern Great Plains. However, 7-day temperatures averaged above-normal throughout the Great Plains. A tropical disturbance in the western Gulf of Mexico and a trough of low pressure resulted in heavy rainfall and improving drought conditions to southeast Texas and southwest Louisiana. Convective rainfall was highly variable this past week across the Southeast with isolated amounts exceeding 3 inches while other areas remained mostly dry with worsening drought conditions. New England experienced a week of mostly dry weather and expanding drought coverage. Following the unusually heavy Monsoon rainfall during late June, heavy amounts were more localized this past week across New Mexico. Seasonal dryness prevailed throughout California, while much of the Pacific Northwest became drier after a wet spring. Drier-than-normal conditions persisted for much of Alaska into the beginning of July. A tropical wave of low pressure tracked northwest from the central Atlantic and brought heavy rainfall to eastern Puerto Rico.
Looking Ahead
A major heat wave is forecast to affect much of the south-central U.S. through at least July 7 or 8 with the anomalous heat becoming centered across the Southern Great Plains and West by mid-July. A swath of heavy rainfall (1 to 3 inches, locally more) is forecast from the Middle Mississippi and Ohio Valleys southeastward to the Mid-Atlantic States from July 7 to 11. Mostly dry weather is expected for the Northeast, Gulf Coast States, Lower Mississippi Valley, and Southern Great Plains. Monsoonal rainfall is forecast to be lighter compared to late June.
The Climate Prediction Center's 6-10 day outlook (valid July 12-16, 2022) favors above-normal temperatures throughout the West, Great Plains, and Gulf Coast States. Below-normal temperatures are more likely for the Great Lakes and Midwest. Below-normal precipitation is favored for the northern Great Plains and Middle to Upper Mississippi Valley. Probabilities for above-normal precipitation are elevated across eastern Alaska, the Great Basin, Southwest, Southern Great Plains, and along the East Coast.