National Current Conditions: July 6, 2022 - July 12, 2022
This past week brought major drought improvements in the Southeast and Southwest, and the Midwest flash drought got a bit of a reprieve...in spots. Meanwhile, the region from eastern Oklahoma/Texas into Arkansas/Missouri—which was in good shape weeks ago—is now impacted by dryness and drought. As of July 12, 2022, 44.98% of the U.S. and 50.61% of the lower 48 states are in drought.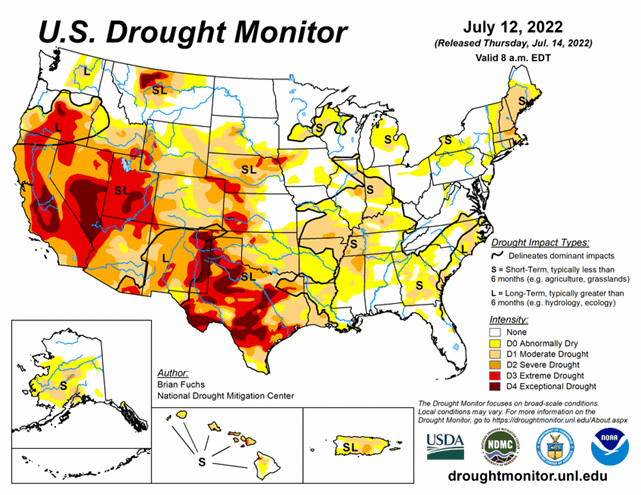 This Week's Drought Summary
An active weather pattern over much of the Midwest and Southeast brought with it ample rain over many areas, with some places recording more than 5 inches for the week. Dry conditions were noted in the Northeast, West, and southern Plains where flash drought conditions were impacting vast portions of Texas, Oklahoma, Arkansas and into the lower Mississippi River valley. Monsoonal moisture continued to be spotty over much of Arizona and New Mexico, reaching into portions of west Texas as well as southern Colorado and Utah. Temperatures were near normal to slightly above over most of the U.S., with cooler-than-normal temperatures over portions of the West, Northeast, and Mid-Atlantic and above-normal temperatures over most of Texas, Oklahoma, Arkansas, and southern Missouri.
Looking Ahead
Over the next 5-7 days, it is anticipated that the monsoonal moisture will continue to bring rains throughout the Four Corners region. Active weather over the Midwest, Gulf Coast and Southeast will again bring widespread precipitation. Precipitation in the central Plains and northern Rocky Mountains will be minimal and dry conditions will continue to dominate the West as well as much of the southern Plains. Temperatures during this period will be well above normal over the western half of the U.S. with temperatures 6-9 degrees above normal while cooler-than-normal temperatures will be common over the eastern half with departures of 1-3 degrees below normal.
The 6-10 day outlooks show that the vast majority of the country has above-normal chances of recording temperatures that will be warmer than normal. The greatest probability of above-normal temperatures will be over the central to southern Plains. Alaska has above-normal chances of having cooler-than-normal temperatures during this time. The best chance of above-normal precipitation is over the Southwest and Southeast while much of the rest of the country will likely have below-normal precipitation, with the greatest chances in the Pacific Northwest and southern Plains.