The inflation data that was released this morning continued to show double digit food inflation compared to a year ago and little change in the trend. Overall inflation at 9.1% was higher than the 8.8% expected increase coming into the report and equity markets promptly declined on speculation that the FED has no choice but to stay aggressive in raising interest rates. The broader food index was 10.4% higher than the previous year, the biggest y/y gain since February 1981. Inflation at the grocery store continues to outpace inflation at foodservice, highlighting the fact that consumer demand is more inelastic for food consumed at home, especially considering runaway inflation for a number of key items, such as gasoline and housing. You need a home to sleep in and you need to fuel up your car to go to work. If that means you will skip a meal at the local restaurant then so be it. Inflation at the grocery store level in June was 12.2% higher than the previous year compared to a 7.7% increase for food consumed away from home.
One thing that stood out as we looked at red meat and poultry price inflation for June is an apparent shift to less expensive proteins. This is not a particularly insightful finding, after all as inflation for core staples goes up the consumer will naturally trade down to less expensive food products. But we need to see this in the data before talking about it and that's what the June report showed.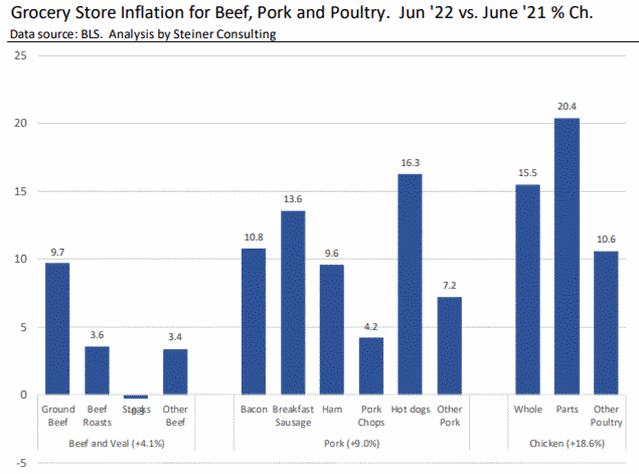 The chart above shows inflation for beef, pork and poultry overall and then inflation within each category. Beef prices in June were 4.1% higher than a year ago, the slowest y/y increase of all major proteins. Within the beef category, ground beef prices were up 9.7% compared to a year ago while steak prices were down 0.3%. Retail beef prices in June 2022 were higher than a year ago even as wholesale beef prices (cutout) was down from a year ago. This is in part due to the lag in price transmission signals from wholesale to foodservice but also because last year the spike in wholesale prices compressed retail margins. This year those margins have improved. Retail pork price inflation in June was up 9% from a year ago. But within this category, we see breakfast sausage inflation up 13.6% while pork chop inflation is up only 4.2% y/y. We have included hot dogs in that category although they are not exactly part of it because they could contain a mix of beef, pork and chicken. Hot dog price inflation in June was 16.3% from a year ago, which goes with our broader theme that consumers are trading down.
Food price inflation at food service in June was 0.9% up from the previous month, the fastest pace since the start of the year and now 7.7% higher than a year ago. Inflation at limited service restaurants in June was 7.4% higher than a year ago while inflation at full service restaurants is up 8.9%. Higher labor costs as well as high cost of a broader range of food products has impacted full service restaurants more. That may keep same store dollar sales up for now, but it could prove to be a challenge down the road, especially if (when) FED efforts to control inflation push the economy into a recession.
Source: Steiner Consulting Group