Beef cow slaughter has maintained a 15% increase over last year through the beginning of June. Regionally double digit increases have been seen in regions 3, 4, 6, and 7, but strong increases have also been seen in regions 9 and 10. Regions 1 & 2 combined has seen a significant decrease from 2021. We are not aware of a plant closure but there may be changes to the number of plants reporting. Region 8 is down 14% and region 5 is down 6%.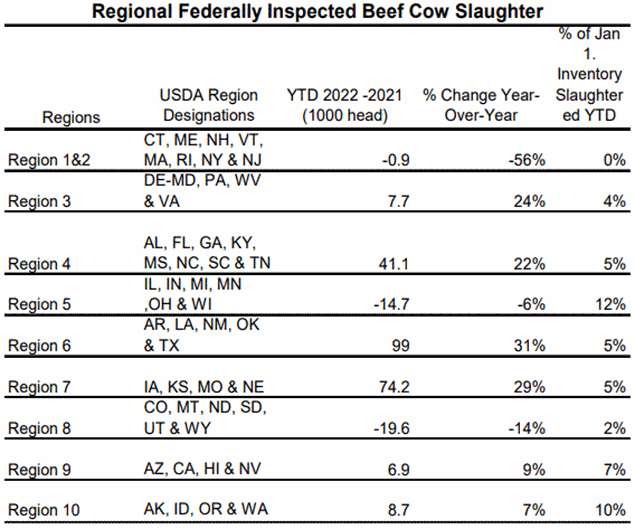 These tallies refer to the region where the cows are slaughtered and are not necessarily reflective of the changes in by state data. Compared to the January 1 inventory levels only two regions are showing cow slaughter levels in excess of 10% of the inventory reported in those areas: region 5 and region 10. These are both smaller regions reporting 1 million to 1.5 million head of beef cows. The largest inventory region is region 6 with about 8.4 million head of beef cows. Beef cow slaughter in that region is equivalent to 5% of the Jan 1 inventory total of those states.
High cull cow values were thought to be incentivizing moving cows to market but since hitting a high point in April, southern Plains 85-90% lean prices have collapsed below the five-year average. National cutter cow values, though have held on and maintained prices in the mid-$70s. The southern Plains price is largely reflective of states that are in Regions 6 & 7 and could be pressured by the enormous volumes of cows moving to market in the first half of 2022.
Cull values in the Southern Plains may continue to face pressure. The last 3 weeks region 7's beef cow slaughter has increased to average over 40% higher than last year, and region 6 averaged over 30% higher.
Source: Daily Livestock Report