National Current Conditions: June 1, 2022 - June 7, 2022
It's hot and dry in the Southwest... Exceptional drought (D4) has developed or expanded in parts of Utah and New Mexico, according to the latest U.S. Drought Monitor. Meanwhile, most states in the West and Great Plains saw improvements, except for areas of Montana and Texas. As of June 7, 2022, 40.1% of the U.S. and 47.57% of the lower 48 states are in drought.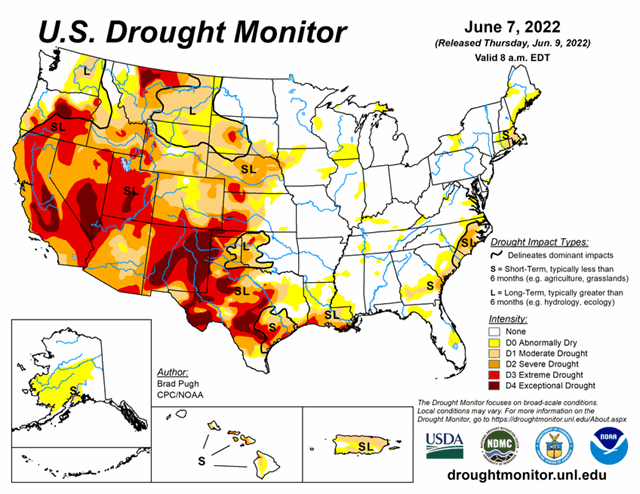 This Week's Drought Summary
A slow-moving cold front resulted in thunderstorms with heavy rainfall (locally more than 3 inches) across the central to southern Great Plains, lower Mississippi Valley, and the Ozarks Region from May 31 to June 2. As this front progressed eastward, locally heavy rain also fell across the Ohio Valley and Northeast. Mid-level low pressure, which has persisted over the northeastern Pacific through much of the spring, continued to enhance onshore flow and precipitation from the Pacific Northwest eastward to the northern Rockies. 7-day precipitation amounts from May 31 to June 6 exceeded 0.5 inches (locally 2 inches or more) over a broad spatial area of Oregon, Washington, Idaho, Montana, and northern Wyoming. After Hurricane Agatha made landfall on the southern coast of Mexico, its remnant low pressure system tracked northeast to the Yucatan Peninsula and reemerged over the southern Gulf of Mexico. This low pressure system, which became Tropical Storm Alex, brought more than 5 inches of rainfall to southern Florida and triggered flooding in Miami. Seasonal dryness prevailed across southern California and the Desert Southwest. 7-day temperatures, from May 31 to June 6, averaged above-normal across much of the eastern and southern tier of the U.S., while cooler-than-normal temperatures prevailed throughout the northern to central Great Plains and upper Mississippi Valley. Mostly dry weather was accompanied by above-normal temperatures across Alaska during late May into the beginning of June. Trade wind showers brought beneficial wetness to the Big Island of Hawaii. Short-term precipitation deficits continue to increase across Puerto Rico, following another drier-than-normal week.
Looking Ahead
A couple of low pressure systems and trailing cold fronts are forecast to bring widespread, heavy rainfall to the Northeast and Mid-Atlantic through June 11. Along a nearly stationary front, a swath of heavy rainfall is forecast to spread southeastward from the Ozarks Region to the northern Gulf Coast on June 9 and 10. The wet pattern is likely to continue from the Pacific Northwest eastward to the northern Rockies and northern Great Plains through June 13, as another low pressure system emerges from the northeastern Pacific. Meanwhile, a heat wave is forecast to expand from California and the Desert Southwest eastward to the south-central U.S. during mid-June.
The Climate Prediction Center's 6-10 day outlook (valid June 14-18, 2022) depicts large probabilities (more than 70 percent) for above-normal temperatures across the southern Great Plains, lower Mississippi Valley, and Southeast. Below-normal temperatures are favored to persist across the Pacific Northwest. Below-normal precipitation is favored for the central to southern Great Plains, middle to lower Mississippi Valley, and much of the Corn Belt. Probabilities for above-normal precipitation are elevated across the Pacific Northwest along with parts of the Southwest.