National Current Conditions: June 22, 2022 - June 28, 2022
The North American Monsoon brought big drought improvements to the Southwest this week, especially New Mexico. However, flash drought is impacting parts of the Midwest, South, and Southeast—where abnormal dryness (D0) is widespread, with pockets of drought. Alaska has also been warm and dry, with huge wildfires. As of June 28, 2022, 42.53% of the U.S. and 47.73% of the lower 48 states are in drought.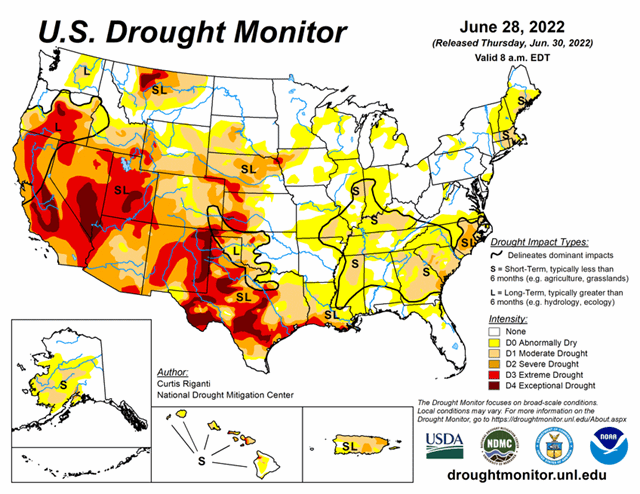 This Week's Drought Summary
Widespread moderate drought and abnormal dryness continued to form and expand across a large swath of the eastern U.S. this week, with a few areas of severe drought forming or expanding as well. Spotty rain and storms occurred across the East, but in areas that missed out on heavy rainfall, high temperatures, browning lawns, and curling corn signaled that rapid drying was taking place in many areas. An early start to the North American Monsoon, particularly in New Mexico and southern Colorado, led to widespread improvement of extreme and exceptional drought in those states. Extreme drought formed or expanded in parts of the central Great Plains this week, where warm, dry weather continued. Moderate short-term drought also began to expand in parts of New England this week. Short-term moderate and severe drought expanded in coverage in Alaska and Puerto Rico, and drought conditions continued to expand in parts of Hawaii. Finally, despite some improvements to conditions in parts of the West, severe, extreme, and some exceptional drought remains widespread there.
Looking Ahead
Through the evening of Monday, July 4, the National Weather Service Weather Prediction Center is forecasting dry weather across roughly the western two-thirds of Texas, much of Oklahoma, and most of the Intermountain West. Some precipitation is forecast across parts of Colorado and the Lower Missouri River Valley. Along the Gulf Coast, widespread precipitation is forecast to occur, with the heaviest amounts centered over parts of the Texas coast, where a tropical disturbance will approach. Heavy rainfall is also possible in coastal portions of Georgia and South Carolina. Elsewhere, pockets of moderate to heavy precipitation may fall across parts of the Southeast, mainly in the southern Appalachians or closer to the coasts.
For the period from Wednesday, July 6 to Saturday, July 9, the National Weather Service Climate Prediction Center forecast favors above-normal precipitation across much of the Upper Midwest, northern Great Plains, and Ohio River Valley. To a lesser extent, above-normal precipitation is also favored in remaining areas of the U.S., except for northern New England, where equal chances for above- or below-normal precipitation exist. Below-normal precipitation is favored in much of Texas and Oklahoma, and across most of the West, with the highest probabilities for below-normal precipitation occurring across northeast Nevada, northern Utah, southern Idaho, and western Wyoming. The forecast slightly favors above-normal precipitation in Washington, and above-normal precipitation is favored in western and central Alaska, while below-normal precipitation is favored in the Alaska Panhandle. A large area of high probabilities for warmer than normal temperatures exists across the central U.S., especially from the Great Plains to the Missouri and Mississippi River valleys. Above-normal temperatures are also favored in parts of the West and Southeast. Within the contiguous U.S., the only locations where below-normal temperatures are favored for this period are central and northern California to western Oregon and Washington, and New England. In Alaska, cooler than normal temperatures are favored in the west, and above-normal temperatures are favored in the east.