National Current Conditions: May 25, 2022 - May 31, 2022
It's meteorological summer, and this past week brought a bit of good drought news. Parts of the Northwest, Rockies, and Great Plains saw good precipitation and drought improvements. However, California and the Southwest have stayed dry—and heat is coming. As of May 31, 2022, 41.4% of the U.S. and 49.3% of the lower 48 states are in drought.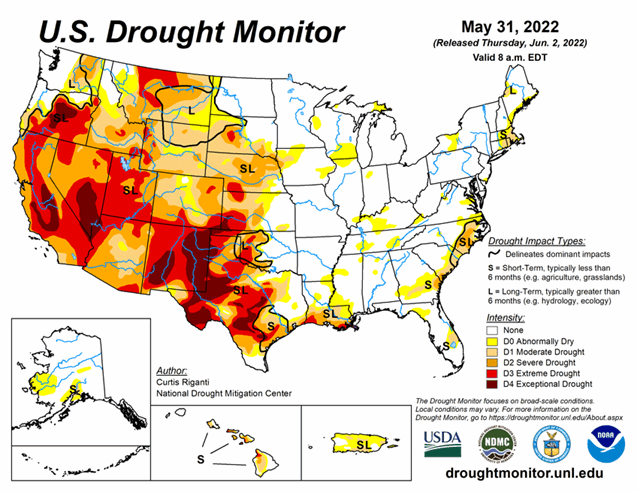 This Week's Drought Summary
Heavy precipitation fell across much of the contiguous U.S. over the past week, particularly in the Great Plains, Northwest (especially the northern Rocky Mountains), and the Southeast. Much of this fell as rain, though some mountain snows occurred as well. Meanwhile, the Southwest remained dry, along with northern Montana and most of the Texas Panhandle. Improvements to drought conditions were widespread in the Great Plains, with parts of central Kansas seeing two-category improvements to conditions.
Despite the widespread precipitation, drought remained in most of the western Great Plains and western U.S., though it lessened in severity in some areas. A mix of worsening and improving drought conditions occurred in the Southeast and Mid-Atlantic states. Long-term drought improved in northern Maine along the Canadian border, while short-term drought expanded in coverage in southern New England. Short-term abnormal dryness and moderate drought developed in south-central and southwest Alaska. Heavy rains in Puerto Rico led to localized improvements there.
Looking Ahead
Through the evening of Monday, June 6, the National Weather Service Weather Prediction Center is forecasting moderate precipitation amounts in parts of the Northwest, with some mountainous areas forecasted to see over an inch of precipitation. Dry conditions are expected to continue in the Southwest. Widespread rain exceeding one-half inch is expected to have fallen across northern Texas, including parts of the Panhandle, and much of Oklahoma. Elsewhere in the Great Plains, some precipitation is forecast to fall from southwest North Dakota southward, with amounts generally varying between 0.25 and 0.75 inches. Heavier amounts are possible along the Minnesota/Iowa border.
In the eastern U.S., generally drier conditions are expected, though some parts of the Ohio Valley and Northeast and the Appalachians are expected to receive at least a half-inch of rain. Finally, a tropical disturbance is forecast to move across southern Florida, which may deliver rain amounts from 3 to 10 inches, especially across the southern half of the Florida Peninsula. For the latest on this system, please refer to forecasts from your local National Weather Service office and any advisories from the National Hurricane Center.