Imports of beef from Brazil have spiked in the last two years as U.S. demand for processing-grade beef has substantially increased. In January 2022 alone, imports reached nearly 100 million pounds—a more than 500 percent increase relative to the same month a year earlier—with fresh beef accounting for 83 million pounds.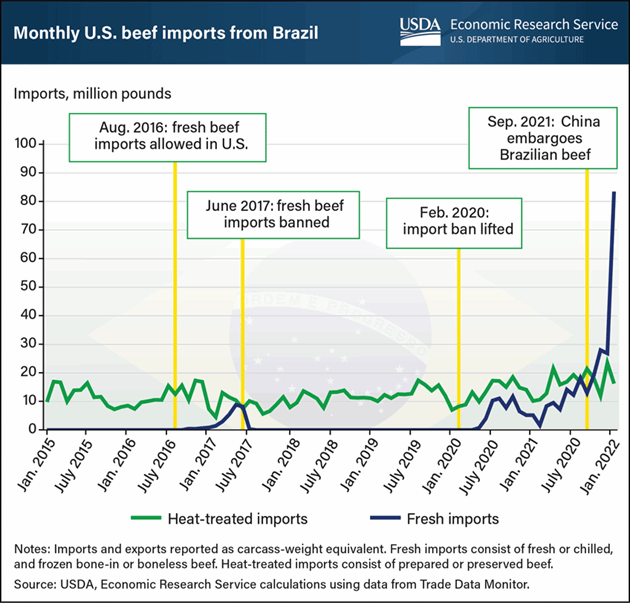 Historically, imports from Brazil primarily consisted of heat-treated beef products, including prepared or preserved beef. In February 2020, the USDA Food Safety and Inspection Service determined that fresh beef from Brazil was eligible for import. As a result, beef imports from Brazil have risen. Record high U.S. beef prices and drought-impacted supplies in Australia, where the United States would otherwise source beef, have also contributed to growing imports of processing-grade beef from Brazil.
Further, in September 2021, China—the destination for more than 40 percent of Brazilian beef exports in 2021—temporarily embargoed imports of Brazilian beef based on animal health concerns. The embargo was lifted in December 2021, but not before some of Brazil's beef was redirected to other markets, including the United States. Further increases in U.S. imports of fresh beef from Brazil are limited by the tariff rate quota system. Beef imported from Brazil enters the United States under the open quota system. Once the quota is filled, imports of fresh beef from Brazil would be subject to a higher tariff, reducing the beef's competitiveness with sources from other countries.