National Current Conditions: March 30, 2022 - April 5, 2022
This past week, drought worsened in almost every state across the West, particularly Arizona and southern Idaho. However, abundant moisture improved conditions from the Upper Midwest down to eastern Oklahoma/Texas and Louisiana. As of April 5, 2022, 48.01% of the U.S. and 57.30% of the lower 48 states are in drought.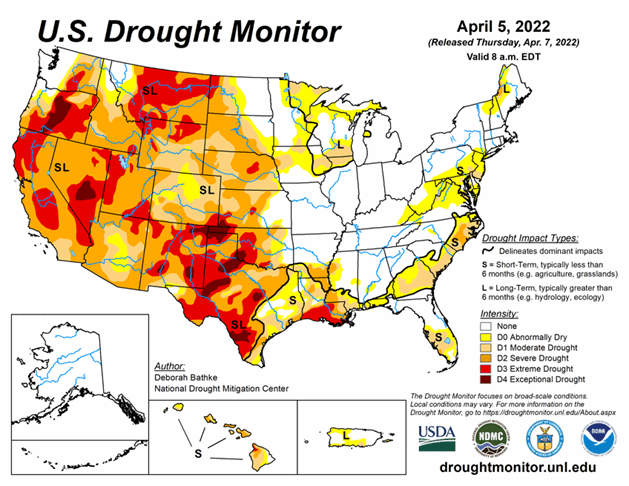 This Week's Drought Summary
April brought heavy rain to parts of the Midwest, South, and Southeast leading to broad areas of drought improvement in these regions. Meanwhile, drought expanded and intensified in the West with many locations setting records for the driest 3-month period (January to March). The High Plains remained largely unchanged this week with small pockets of improvements and degradations.
Looking Ahead
The National Weather Service Weather Prediction Center (valid April 7 – April 9) calls for another storm system to move across the eastern half of the Lower 48. Multi-day snow is expected over the long-term drought areas in the Upper Midwest. Drought areas in the Southeast and Mid-Atlantic are expected to see rain. Meanwhile, dry weather is expected across much of the drought-stricken Plains and West. An approaching front moving into the Pacific Northwest and Northern Rockies will bring rain and snow.
Moving into the weekend, the forecast (valid April 9 – 13) calls for rain and high elevation snow and well below normal temperatures across the West. The colder temperatures, rain, and snow will reach into the northern and central Plains by early next week. At 8 – 14 days, the Climate Prediction Center Outlook (valid April 14 – 20) calls for below normal temperatures over much of the western and central U.S. and Alaska. Above normal temperatures are predicted over the east and west coasts. Near to above normal precipitation is favored for the Central Rockies eastward. Below normal precipitation is favored over California, Nevada, southeastern New Mexico, and southwestern Texas.