National Current Conditions: April 20, 2022 - April 26, 2022
Dry and windy conditions continue for the Southwest into the Southern Plains. Drought worsened in Arizona, Colorado, New Mexico, and western Oklahoma and Texas, according to this week's U.S. Drought Monitor. On a better note, the Upper Midwest is almost drought-free. As of April 26, 2022, 45.4% of the U.S. and 54.2% of the lower 48 states are in drought.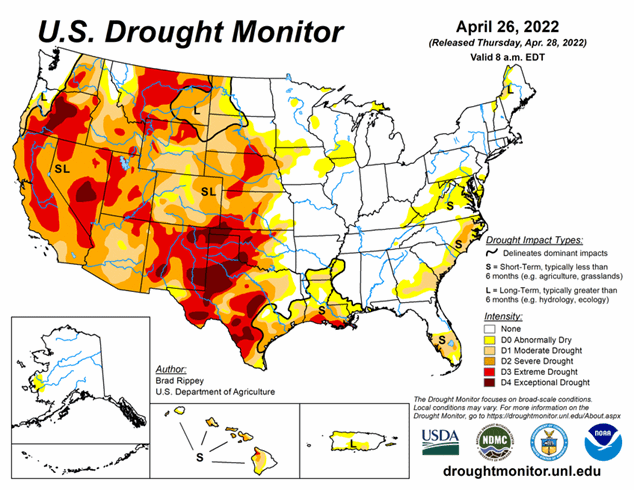 This Week's Drought Summary
Only about 10 days after a powerful, winter-like storm struck the northern Plains, a similar system delivered another round of heavy precipitation and high winds. With the more recent storm, which primarily unfolded on April 22-23, heavy snow was focused across a smaller area, primarily blanketing western North Dakota, southeastern Montana, northwestern South Dakota, and portions of Wyoming. Meanwhile in the Red River Valley, heavy rain falling on partially frozen soils resulted in extensive flooding, especially north of Fargo, North Dakota, with runoff further enhanced by melting snow. Farther south, high winds again raked the central and southern Plains and the Southwest, resulting in blowing dust and fast-spreading wildfires. Across the southern High Plains' hardest-hit drought areas, hot, windy weather sapped any remaining soil moisture and further stressed rangeland, pastures, and winter grains. Meanwhile, a few severe thunderstorms dotted the Plains and upper Midwest, leading to localized wind and hail damage. The greatest concentration of severe weather occurred on April 22 from South Dakota to northern Texas. In contrast, little or no precipitation fell during the week across the nation's southwestern quadrant, leading to further drought intensification. As the drought-monitoring period ended (on the morning of April 26), a significant rain event was winding down across parts of southern and eastern Texas.
Looking Ahead
The threat of frost and sub-freezing temperatures will linger at least into Friday in parts of the Great Lakes and Northeastern States. Meanwhile, a disorganized storm system will cross the western U.S. before intensifying on April 29-30 over the nation's mid-section. With the storm's path across the central Plains and upper Midwest, rainfall could reach 1 to 3 inches in the north-central U.S., with some of the highest amounts expected on Friday in the Dakotas. Meanwhile, windy, dry weather in the nation's southwestern quadrant will lead to additional drought and wildfire concerns. Late in the weekend, however, portions of the southern Plains may experience some drought relief.
The NWS 6- to 10-day outlook for May 3 – 7 calls for the likelihood of near- or below-normal temperatures across the North and Far West, while warmer-than-normal weather will prevail from the Four Corners States eastward to the middle and southern Atlantic Coast. Meanwhile, near- or above-normal precipitation across most of the country should contrast with drier-than-normal conditions in the upper Great Lakes region and parts of the Southwest.