National Current Conditions: February 23, 2022 - March 1, 2022
Drought conditions continue to deteriorate as we enter meteorological spring. California, the Southwest, Central Plains, and Southeast all saw conditions worsen, according to the latest U.S. Drought Monitor. As of March 1, 2022, 49.6% of the U.S. and 59.2% of the lower 48 states are in drought.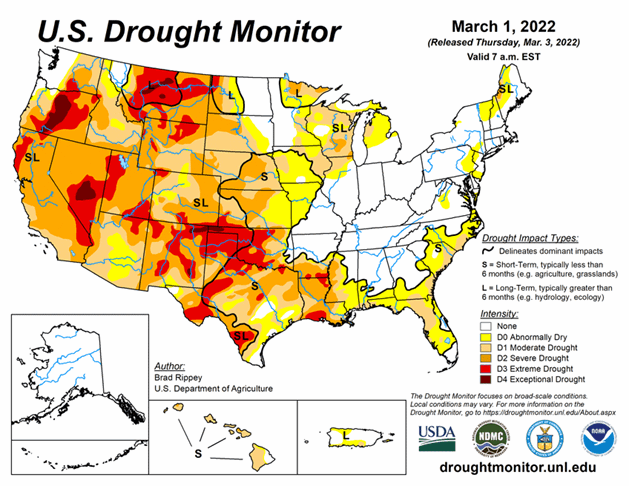 The drought-monitoring period, which began on the morning of February 22 and ended early March 1, featured some wild temperature swings, along with a band of heavy precipitation stretching from the mid-South into the Northeast. In fact, this represented the second consecutive monitoring period with significant precipitation along nearly the same axis, while many other parts of the country received little or no moisture. As a result, gradual expansion of dryness and drought was the rule across much of the western half of the nation, extending into parts of the upper Midwest, as well as the southern Atlantic States and the Gulf Coast region. In contrast, heavy precipitation kept drought at bay from the Ozark Plateau into the Ohio and Tennessee Valleys and the lower Great Lakes region. Significant precipitation also fell in drought-free areas of the Pacific Northwest, leading to another round of flooding in parts of western Washington.
Looking Ahead
Showery weather, initially confined to the nation's northern tier, will gradually engulf the much of the West before spreading eastward. A return to chilly weather will accompany and trail the increasingly unsettled weather. However, storminess will bypass much of the nation's southern tier, with the Southeast and southern sections of the Rockies and Plains remaining dry during the next 5 days. Farther north, 5-day precipitation could total an inch or more from the upper Midwest into the Great Lakes region. Precipitation will also stretch from California to the central Rockies, although amounts are not expected to be great enough to provide substantial drought relief. Still, some areas of the West could experience their heaviest precipitation since December. The NWS 6- to 10-day outlook for March 8 – 12 calls for the likelihood of below-normal temperatures from the Pacific Coast to the Mississippi Valley and the upper Great Lakes region, while warmer-than-normal weather will prevail along and east of a line from southeastern Louisiana to Lake Ontario. Meanwhile, near- or above-normal precipitation across most of the country should contrast with drier-than-normal conditions from California to the southern High Plains.