National Current Conditions: March 23, 2022 - March 29, 2022
Nationwide drought coverage decreased for the third week in a row as precipitation fell across much of the Lower 48. While it has been a relatively wet couple of weeks, many drought areas still missed out. For example, a last gap winter storm hit parts of California but missed northern California, which saw Extreme Drought (D3) expand. As of March 29, 2022, 48.57% of the U.S. and 57.97% of the lower 48 states are in drought.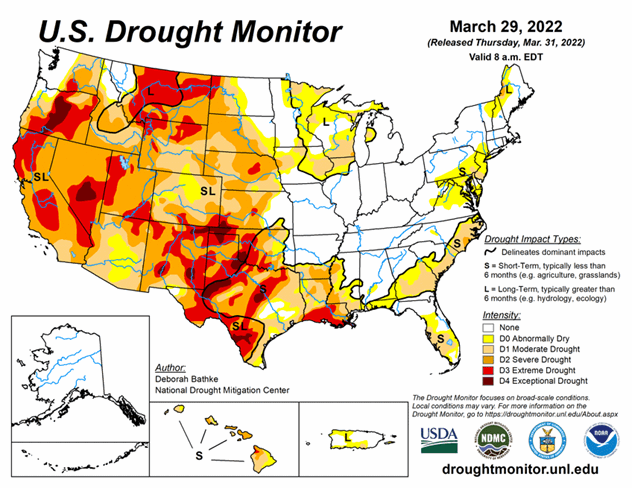 This Week's Drought Summary
Two fast-moving storms impacted the Lower 48 last week. Heavy rain fell across parts of the Midwest and South, leading to broad areas of drought improvement in these regions. Parts of the West saw much-needed rainfall. In most cases, these amounts were not enough to bring relief to the region's relentless long-term drought conditions. Pockets of dryness also continued across the northern High Plains, South, and Southeast leading to drought expansion.
Looking Ahead
The National Weather Service forecast (valid March 31 – April 7) calls for heavy rain and storms ahead of an advancing cold front extending from south of Lake Michigan to East Texas. Storms will progress eastward through the remainder of the week. The Northern Plains, Upper Midwest, and New England can expect snow/freezing rain. Heavy rain and mountain snow are expected from the Pacific Northwest to the Rockies.
Moving into next week, the Climate Prediction Center Outlook (Valid April 7 – 13) favors above normal temperature for a large part of the West, extending from California across the Great Basin and into the southern Rockies. Meanwhile, near to above normal temperatures are favored for the Northeast and Eastern Seaboard. Below normal temperatures are expected over the eastern central CONUS. The outlook favors above normal precipitation across much of the northern tier of the Lower 48 and Alaska. Near to below normal precipitation is favored over southern areas of the West and the Southern and Central Plains.