National Current Conditions -- March 16, 2022 - March 22, 2022
Nationwide drought coverage decreased for the second week in a row, down to 48.8% of the U.S. from 51.1% last week. Severe storms hit the Central/Southern Plains and Southeast this week, bringing both damage and widespread drought improvements. Still, long-term drought remains across much of the West. As of March 22, 2022, 58.3% of the lower 48 states are in drought.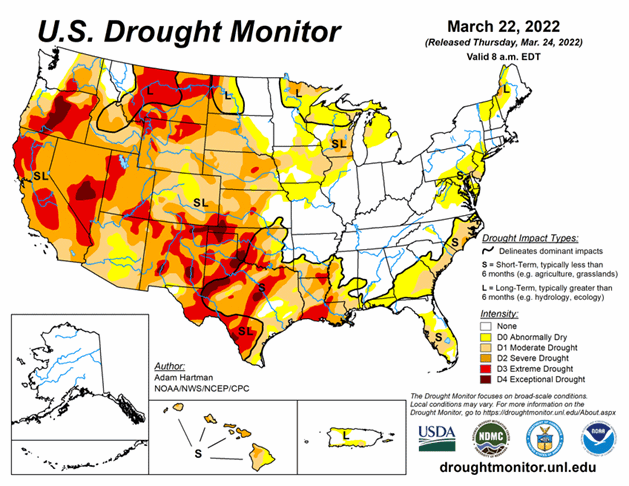 This Week's Drought Summary
A series of storm systems moved across the lower 48 states this past week. Heavy rain fell across parts of the Great Plains and Southeast, with lighter amounts observed across parts of the Pacific Northwest and Intermountain West. The Central and Southern Plains, Lower Mississippi Valley, and Southeast mostly saw improvements to drought conditions, with several locations receiving more than 2 inches of rainfall (more than 5 inches, locally) during the 7 days leading up to March 22. Throughout much of the U.S., where antecedent dryness coincided with below-normal precipitation, drought either continued or worsened in intensity. The only areas where this was not true was across parts of the Upper Midwest, which experienced some removal of long-term drought due to improvements from melting snow cover.
Looking Ahead
A storm system that brought heavy rainfall to eastern parts of the lower 48 states March 22-23 will continue to move northeastward and into the Great Lakes by Thursday, March 24. This storm will continue to bring the potential for rainfall across parts of the Southeast and Mid-Atlantic and mixed precipitation types across the Northeast and Great Lakes through Friday, March 25. By March 26, another fast-moving low pressure system is expected to sweep in behind the Great Lakes system to help push it out to sea by the weekend. Following the passage of these storm systems, colder air is likely across northeastern and north-central parts of the U.S., starting on March 26, with maximum temperature anomalies expected to be anywhere from 10°F to 20°F below-normal across parts of the Midwest. These cold temperatures will shift eastward toward the Northeast and Mid-Atlantic through March 29. Across the western U.S. high pressure is expected to dominate, favoring below-normal precipitation and above-normal temperatures through Monday, March 28. Maximum temperatures are predicted to be on the order of 15°F to 20°F above-normal, and greater, with the warmer temperatures shifting from the West Coast to the Great Plains and into the Southeast March 24-29, before beginning to moderate. On March 29, another storm system is predicted to move into the West Coast bringing an opportunity for much needed precipitation across portions of California.
The Climate Prediction Center's 6-10 day outlook (valid March 29 to April 2, 2022) favors near to above-normal temperatures across much of the western and eastern contiguous U.S. (CONUS) and the Gulf Coast. Below-normal temperatures are favored for the north-central and northeastern CONUS, behind strong low pressure exiting the East Coast near the start of the period. Above-normal precipitation is favored for much of the eastern two-thirds of the CONUS, as a storm system is expected to intensify and move eastward across U.S. during the period. Behind this storm system and farther to its south, below-normal precipitation is likely across parts of the western CONUS and southern Texas, respectively.