According to the latest U.S. Drought Monitor, the Southern Plains saw massive degradations with Exceptional Drought (D4) expanding in KS, OK, and TX. The South/Southeast worsened too although they're getting heavy precipitation now. Mostly status quo for the West as recent snowfall is offset by long-term drought. As of March 8, 2022, 51.2% of the U.S. and 61.1% of the lower 48 states are in drought.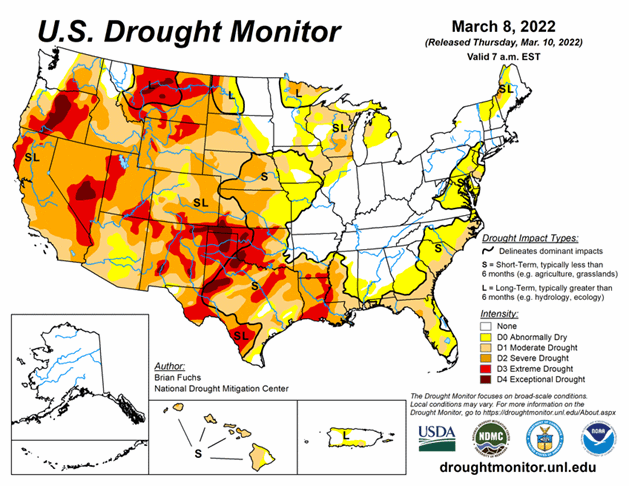 Summary
Several storm systems from the northern Rocky Mountains to the Midwest brought with them rain, snow, and even some severe weather this past week. Temperatures for the week were cooler than normal over the northern Plains and into the West. The coldest readings were in the northern Plains and upper Midwest, with departures of up to 9 degrees below normal. Temperatures were warmer than normal over much of the eastern U.S., with the greatest departures (12-15 degrees above normal) over Tennessee and Kentucky. Areas of the Midwest, central Plains and into the West did see above-normal precipitation this week with areas of Kentucky, Indiana, and Ohio receiving over 2 inches of precipitation during the period. The southern Plains and South continue to dry out. As spring approaches and dormancy is broken, impacts are already showing in these areas and drought intensification is widespread with quickly expanding extreme and exceptional drought areas.
Looking Ahead
Over the next 5-7 days, it is anticipated that cooler than normal temperatures will dominate the country, with departures of 9-12 degrees below normal over the Rocky Mountains and 3-6 degrees below normal over the Southeast. It is anticipated that the greatest precipitation will take place over the East coast, with local maximum amounts over southern Georgia and north Florida. Most areas are expected to record precipitation, with the northern Plains and California anticipated to be the driest.
The 6-10 day outlooks show that the likelihood of above-normal temperatures is greatest over the eastern half of the U.S., with the best chances over the Mid-Atlantic into the Northeast. Above-normal chances of below-normal temperatures are expected over Alaska. The best chances of above-normal precipitation are over the Pacific Northwest, Rocky Mountains and eastern U.S. Above-normal chances of below-normal precipitation are anticipated in the Southwest and northern Plains.