National Current Conditions - February 16, 2022 - February 22, 2022
Parts of the Southern Plains received helpful precipitation this past week; the West received some precipitation, but not enough. Meanwhile, parts of Florida and coastal areas of the Southeast saw drought develop, according to the latest U.S. Drought Monitor, and outlooks for the Southeast look dry. As of February 22, 2022, 48.2% of the U.S. and 57.5% of the lower 48 states are in drought.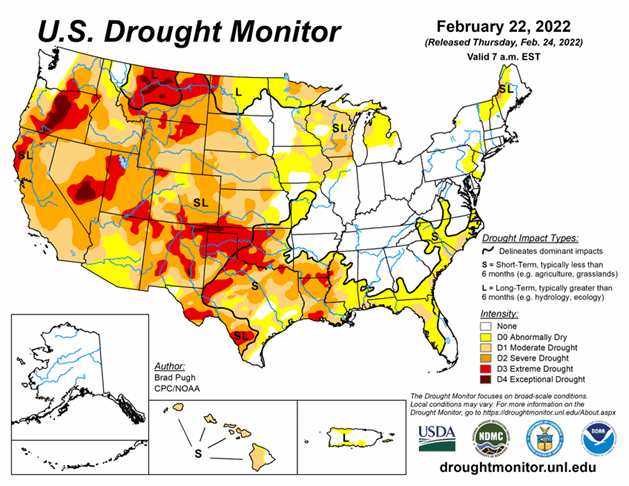 Looking Ahead
On February 24, a major winter storm will be ongoing across the south-central U.S. with snow and freezing rain. This winter storm is forecast to shift to the Midwest and Northeast where there is the potential for more than 6 inches of snowfall. The heaviest precipitation (more than 1 inch), associated with the low pressure system, is likely to affect the increasingly wet areas of the Ohio and Tennessee Valleys. In the wake of this winter storm, bitterly cold temperatures are forecast to overspread the Great Plains and also expand east across the Corn Belt. Onshore flow is expected to bring rain and high-elevation snow to the Pacific Northwest on February 27 and 28. Little to no precipitation is forecast along the Gulf Coast, Florida, and California through the end of February.
The Climate Prediction Center's 6-10 day outlook (valid Mar 1-5, 2022) favors near to above normal temperatures across much of the contiguous U.S. However, it should be noted that below normal temperatures are likely to return to the northern Rockies, northern Great Plains, and upper Mississippi Valley by the second week of March. Below normal precipitation is favored for much of the Southeast, southern Great Plains, Southwest, and California, while above normal precipitation is most likely from the northern Rockies east to the northern Great Plains and upper Mississippi Valley.