National Current Conditions - February 9, 2022 - February 15, 2022
It was a dry week for much of the Lower 48. With drought persistence and degradations in so many areas, drought now covers 47.81% of the U.S. and 57.06% of the lower 48 states. According to the U.S. Drought Monitor, this is the most drought coverage in the United States since February 2013.
This Week's Drought Summary
A broad area of surface high pressure resulted in little to no precipitation throughout the contiguous U.S. from February 8 to 14. During this 7-day period, the most significant precipitation (more than 0.5 inch, liquid equivalent) was limited to the Cascades, Upper Mississippi Valley, northern New England, and the Florida Peninsula. Following a wet December with beneficial snowfall, a persistent area of mid-level high pressure anchored near the West Coast led to drier-than-normal conditions across the western U.S. since early January. During the second week of February, above-normal temperatures prevailed throughout the West and much of the Great Plains.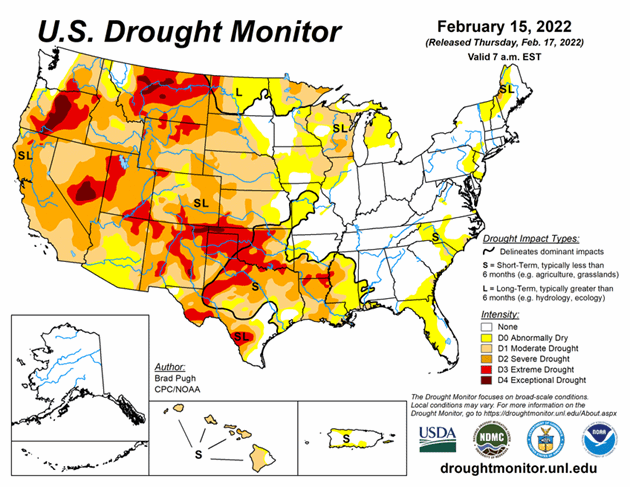 Looking Ahead
On February 17, a low pressure system is forecast to develop with a subsequent track northeastward to the Ohio Valley and Northeast. A swath of snowfall, potentially more than 6 inches, is expected to the northwest of surface low track from the central Great Plains to the Midwest. In the warm sector of this storm system, thunderstorms with locally heavy rainfall (more than 1 inch) are forecast from the Ohio River south to the Lower Mississippi Valley. Mostly dry weather is likely across the Coastal Plain of the Southeast and Florida from Feb 17 to 21. As mid-level low pressure develops over the West on Feb 20 and 21, snow is anticipated to overspread the Cascades, Sierra Nevada Mountains, Great Basin, and Rockies.
The Climate Prediction Center's 6-10 day outlook (valid Feb 22-26, 2022) depicts a major pattern change over the West and north-central U.S. from earlier in the month. Large probabilities (more than 70 percent) of below normal temperatures are forecast throughout the West and much of the Great Plains. Conversely, large probabilities (more than 70 percent) of above normal temperatures are forecast across the Mid-Atlantic and Southeast. Below-normal precipitation is favored for the Pacific Northwest, Great Basin, California, and Florida. A storm track, consistent with La Nina, elevates probabilities for above normal precipitation across the Ohio and Tennessee Valleys.