National Current Conditions
February 2, 2022 - February 8, 2022
Parts of the South saw some drought relief in the form of rain, ice, or snow. However, the West mostly held at status quo after another dry week. All eyes are on the forecast (which is mixed). As of February 8, 2022, 46.5% of the U.S. and 55.5% of the lower 48 states are in drought.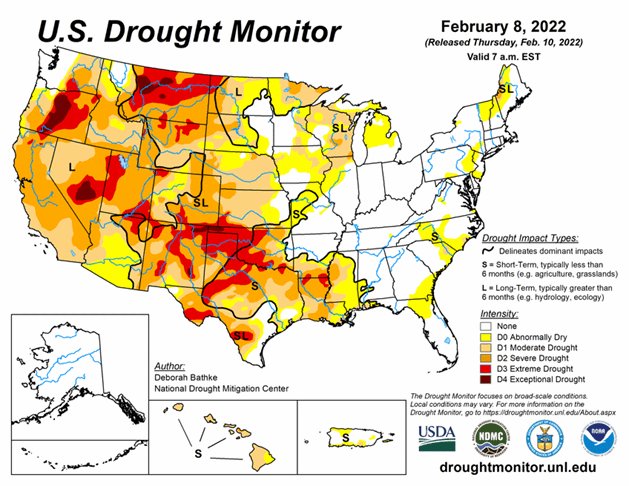 Looking Ahead
The National Weather Service Weather Prediction Center forecast (valid February 10 – 15) calls for relatively dry weather over much of the Lower 48. A pair of storms systems are expected to bring snow to the Upper Midwest and Northeast. Much of the continental U.S. will see above normal temperatures through the weekend.
Moving into next week, the Climate Prediction Center (Valid February 15 – 19) Outlooks favor above normal precipitation from the Desert Southwest northeast to the Canadian border. Drier weather is favored for the northern Plains and much of the west. Temperatures are expected to be warmer than normal in the West Coast states, the central and northern Great Plains, and across much of the Lower Midwest and Southeast.