National Current Conditions
The dry January out West continues outside of parts of the Northwest and Rockies. February precipitation will be crucial. Meanwhile, extreme (D3) and exceptional (D4) drought have expanded further in the Southern Plains. As of January 25, 2022, 46.1% of the U.S. and 55.2% of the lower 48 states are in drought.
As the drought-monitoring period began on January 18, a moisture-laden storm had just cleared the Atlantic Coast States. A few days later, another system delivered a variety of weather, including rain, freezing rain, sleet, and snow, across parts of the South. The latter storm produced significant snow on January 21-22 near the middle Atlantic Coast, including eastern North Carolina and southeastern Virginia. Most of the remainder of the country experienced a dry week, aside from periods of mostly light precipitation from the Pacific Northwest to the Great Lakes States. However, completely dry weather prevailed through January 24 in several areas, including California and the parched southern Plains, where 71 percent of Texas' winter wheat was rated in very poor to poor condition. As the drought-monitoring period ended early January 25, some snow developed on the northern and central High Plains, while rain returned along and near the Gulf Coast. Elsewhere, frigid conditions from the Midwest into the Northeast and generally chilly conditions across the eastern half of the country contrasted with near- or above-normal temperatures farther west.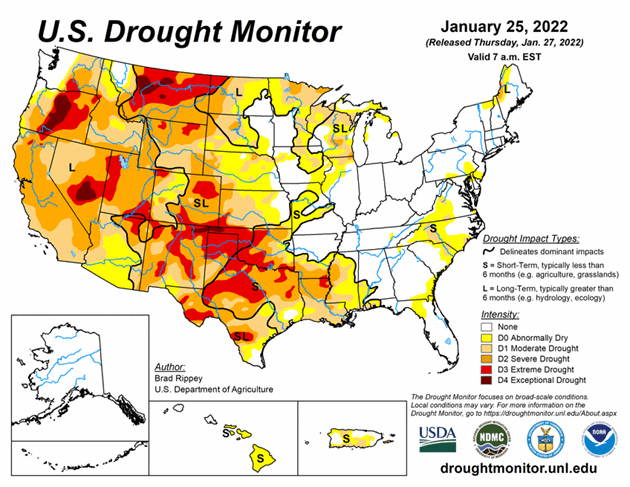 Looking Ahead
During the next 5 days, the only major storm system to affect the country will develop near the southern Atlantic Coast and move northward. The potential exists for significant accumulations of wind-driven snow, starting Friday night and continuing into the weekend, from the middle Atlantic Coast into New England. Most of the remainder of the country will receive little or no precipitation, although exceptions during the next couple of days will include rain from southern Texas to Florida's peninsula and snow squalls downwind of the Great Lakes. In addition, precipitation should begin to overspread the Northwest during the weekend. Elsewhere, frigid conditions will linger during the next several days from the Midwest into the Northeast, while areas as far south as Florida's peninsula may experience sub-freezing temperatures as January draws to a close.
The NWS 6- to 10-day outlook for February 1 – 5 calls for the likelihood of above-normal temperatures in the eastern U.S., while colder-than-normal conditions will prevail along and west of a line from central Texas to Lake Michigan. Meanwhile, below-normal precipitation in the Far West, including northern and central California and the Great Basin, should contrast with wetter-than-normal weather in most areas from the central and southern Rockies to the Atlantic Coast.