The end of 2021 brings both good and bad news for drought across the U.S.
Heavy precipitation improved drought in much of California and parts of the Southwest and Pacific Northwest. However, conditions worsened in the Central and Southern Plains, which were warm and dry. As of December 28, 2021, 46.2% of the U.S. and 55.3% of the lower 48 states are in drought.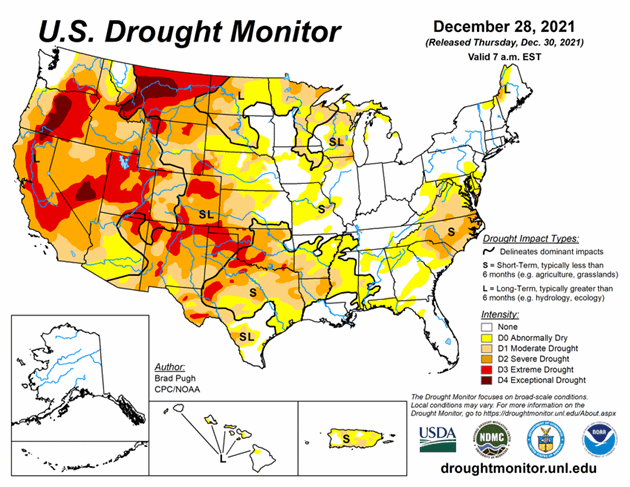 Looking Ahead
Another round of heavy rain and high-elevation snow are forecast across southern California, the Southwest, and Four Corners region on Dec 30 and 31. A low pressure system and trailing front are expected to progress eastward from the central to eastern U.S. from Jan 1 to 2. A swath of snow may occur on the northwest side of the surface low track, from the central Plains northeast to the Midwest and Great Lakes. Heavy rain (1 to 3 inches) is forecast to overspread the Tennessee Valley, southern Appalachians, and southern Mid-Atlantic. Little to no precipitation is expected for the southern Great Plains into the beginning of the New Year. Heavy rain and high-elevation snow is forecast to return to the Pacific Northwest and northern California by Jan 3. Following a brief moderation in temperatures, another outbreak of Arctic air is anticipated to shift south from Canada into the northern Plains during the first week of January 2022. The wet pattern is likely to persist across Hawaii well into the New Year.
The Climate Prediction Center's 6-10 day outlook (valid Jan 4-8, 2022) favors above-normal temperatures across the southern Great Plains, Gulf Coast States, and along the East Coast. Below-normal temperatures are very likely for the northern Great Plains and southeastern Alaska where probabilities exceed 70 percent. Near or below-normal temperatures are favored throughout the West. Above-normal precipitation is most likely across the northern to central Rockies, Great Basin, Pacific Northwest, and northern California. Probabilities of above-normal precipitation are elevated from the Mississippi Valley to the East Coast, while below-normal precipitation remains favored for the southern Great Plains.