December 8, 2021 - December 14, 2021
Amidst the wild and devastating weather week, drought mostly held at status quo. The West saw some improvements, and the Southern Plains saw degradations, with mostly small changes elsewhere. As of December 14, 2021, 46.2% of the U.S. and 55.1% of the lower 48 states are in drought.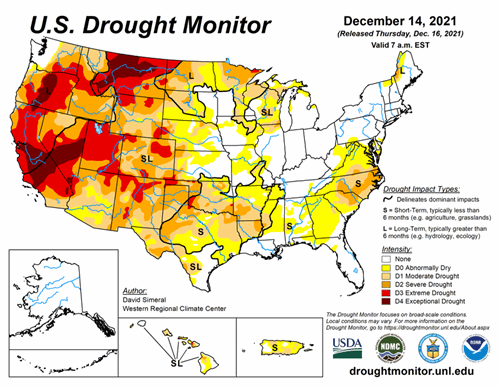 Looking Ahead
The NWS WPC 7-Day Quantitative Precipitation Forecast (QPF) calls for moderate-to-heavy liquid (liquid = rain + SWE) precipitation accumulations ranging from 2 to 5 inches in an area extending from Northern California to Washington state. Similar accumulations are forecasted In the Sierra Nevada Range, Cascade Range, and Olympic Mountains. In the Intermountain West, 1-to-2-inch (liquid) accumulations are expected across the Central and Northern Rockies. Elsewhere, 1-to-5-inch (liquid) accumulations are expected in far southeastern portions of the Southern Plains as well as in the Lower Mississippi, Tennessee, and Ohio River valleys. Along the Eastern Seaboard, light accumulations of generally <1 inch are expected in New England while most of the Mid-Atlantic and Southeast will continue to be generally dry.
The CPC 6-10-day Outlooks calls for a moderate-to-high probability of above-normal temperatures across the southern half of the conterminous United States excluding California and Nevada. Below-normal temperatures are expected across the remainder of the West including the Pacific Northwest and the Northern Rockies. In terms of precipitation, the wetter-than-normal pattern is expected to persist across the western U.S., while there is a low-to-moderate probability of below-normal precipitation across the Central and Northern Plains as well as across most of the South. In the eastern third, near-normal precipitation is expected.