This week brought improvements from the Pacific Northwest across to the Upper Midwest. The exception: Drought worsened in parts of Montana, Wisconsin, and Michigan. Drought is also expanding in Texas and parts of the Southeast. As of November 2, 2021, 40% of the U.S. and 47.8% of the lower 48 states are in drought.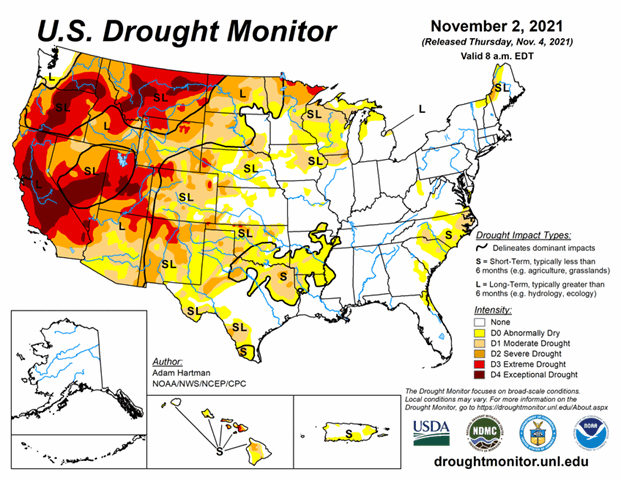 During the next 5 days (November 4 to 8), an active storm track across the Pacific Northwest and northern California is likely to continue, with locally more than 5 inches of liquid-equivalent precipitation falling along the coastal ranges and the Cascades. The southwestern, central, and much of the eastern CONUS is expected to remain dry. However, a mean frontal boundary is favored to set up along the Gulf Coast and Southeast Atlantic Coast, bringing the potential for some locations across southern Texas and the Florida Peninsula to pick up over 1 inch of rainfall. Maximum temperatures are expected to remain below-normal across the West Coast and above-normal across much of the central CONUS. Over the eastern CONUS, below-normal maximum temperatures are likely to moderate leading up to Tuesday, November 9.
The CPC 6-10 day extended-range outlook (valid from November 8 to 12) favors above-normal temperatures across the central and much of the eastern U.S. with below-normal temperatures likely for the Pacific Northwest, northern California, and the southern Florida Peninsula. Below-normal temperatures are favored for southern Alaska. Above-normal precipitation is likely from the Pacific Northwest and northern California, eastward to the Great Lakes and Ohio Valley, and southward to the Lower Mississippi Valley, with the greatest odds for above-normal precipitation across the northwestern CONUS. Below-normal precipitation is most likely across the southwestern CONUS, the Northeast, and Mid-Atlantic. In Alaska, odds are enhanced for below-normal precipitation across much of the state.